CSC News
November 16, 2015
Senior Design Center's "Posters & Pies" Set for December 4th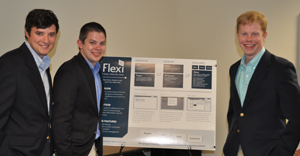 The public is cordially invited to attend the NC State Department of Computer Science Senior Design Center "Posters & Pies" event on Friday, December 4th, from 10:40 a.m. - 1:00 p.m. in the James B. Hunt Jr. Library Auditorium on NC State's award-winning Centennial Campus.
Each team will give a brief presentation of their Senior Design Project in the Hunt Library Auditorium. After the presentations, pizza and dessert pies will be served, and you can enjoy project demonstrations and poster displays in the Hunt Library Duke Energy Hall.
The event is sponsored by the Computer Science Department's ePartners: Boeing, Schwab Performance Technologies, and Oracle, as well as the ePartners Program and the NC State Engineering Foundation.
This semester, the sponsors and projects are as follows:
Bandwidth

: Port Out Validation – Phone Number Porting Authentication

Boeing

: Data Visualization of Finance Systems Integration

LexisNexis

: FlowChart

SAS

: OpenU15-Based Custom Calendar Component

Blue Cross Blue Shield of NC

: Project IIVA - Integrated Intelligent Virtual Assistant

Cisco

: AquaWatch – Bridging Ecology & the Internet

EMC

: Monitoring & Managing Stream Usage

Entrepreneurs

: SenSAE – Sensory Sound Augmented Electronics

IBM

: IBM Services Asset Program – Enterprise Exception Handler

Ipreo

: Historical Stock Holdings Big Data Exploration

Merck

: Project Panacea

Schwab Performance Technologies

: RoadMapper - An Intuitive Drag & Drop Scrum Management Tool

Bronto

: Brontosauras Dex

Deutsche Bank Global Technology

: Nock

Infusion

: Shakespeare-in-Motion

KPIT

: Clear & Precise Language for Engineers

Laboratory for Analytic Sciences

: Planemos

NetApp

: StorageGRID KVM Deploy Tool

Oracle

: Cloudy With a Chance of Defects

Principled Technologies

: Nebula Wolf – To Space & Back
Please come join us! The media is welcome to this event.
Senior Design Center contacts:
Media & Corporate Partnership contact:
Return To News Homepage