CSC News
July 07, 2004
Computer Science Students Gain Software Insight at Apple Conference
A trip to San Francisco in the summer may conjure up images of sightseeing and relaxing activities, but for two North Carolina State University seniors, it was a week filled with training sessions and discussions about the latest development software available through Apple.
Neha Jain and Jack Frink, both computer science seniors, received scholarships to attend Apple's Worldwide Developers Conference in San Francisco, CA, June 28 to July 2.
Apple CEO Steve Jobs kicked off the event with a keynote address that included a preview of "Tiger," the next release of Mac OS X. The conference is touted by Apple as the most important week of the year for developers, IT professionals, and digital media authors.
Jain and Frink had nearly 200 technical sessions to choose from, with content designed to serve a wide range of Mac developers, including an in-depth look at the latest Mac OS X technologies, hands-on labs with the latest Mac systems, expanded tracks on Enterprise IT and a dedicated track for QuickTime® developers and content creators.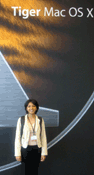 Jain attended a number of those "to sample the different technologies that Apple had to offer," she says. Her favorites: Java Development using Xcode, Rendezvous Update, Fundamentals of Cocoa, OpenGL, High Performance Computing, Mac OS X: State of the Union, Debugging in Xcode, Security Practices in Mac OS X, a feedback forum on development tools, "and, of course, the keynote speech" by Jobs.
Not exactly a walk along the beach, but for students serious about their career track, it was an exciting place to be.
Frink and Jain both attended a number of sessions on Cocoa, a programming language used to write native Mac OS X applications.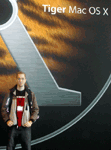 "I also was interested in the sessions relating to the use of Apple computers and Mac OS X in research, as both Apple's hardware and their operating system have made significant strides in that environment," Frink says.
"It was a great experience and has motivated me to learn more Cocoa. Without the background in computer science that I gained at NC State, the programming sessions would have had little value and it would not be possible for me to start learning Cocoa on my own," Frink says.
The conference also provided plenty of opportunities for networking. "It was a great way to interact with professionals in the development community," he says.
"On my first day we had a programming project with five people in each group," Jain says. "I met a Ph.D. student from Japan who was really smart, a guy from Australia, and another one from Colorado University. We all got along quite well. It was a great learning experience."
She also met Ken Victor, an individual interested in encouraging women to pursue careers in engineering. The demographics at the conference spoke to his concerns: Of 3500 attendees, only about 40 were women, Jain says. "It was quite intimidating at first but after a day or two, I started mingling and making friends," she says.
One of those was a woman from India who completed her masters in computer engineering in New York and was recently hired by Apple to work with the file organization department.
"I asked her how long had she been using Macs and she said 'only a month'," Jain says.
She also met James Davidson, co-author of Learning Cocoa with Objective-C, and presenter of the Cocoa sessions. She says she found him to be "an interesting person."
Jain's two major take-aways from the experience:
• Communication is very important. A great idea fails if you are not able to express how great it is.
• Publish as much as you can, whether it's a paper or a small application developed using Cocoa.
Footnote
Arman Assa, president of PackMUG, NC State's Macintosh Users Group, says, "The lack of women in engineering and computer science is a problem that plagues engineering schools and businesses globally. PackMUG, the ACM/AITP, WICS, and other technology organizations at NC State have made recruiting women, and supporting programs that encourage women in engineering and computer science, a top priority."
- Anna Rzewnicki -
Return To News Homepage