CSC News
September 09, 2015
Welcome New Student Ambassadors!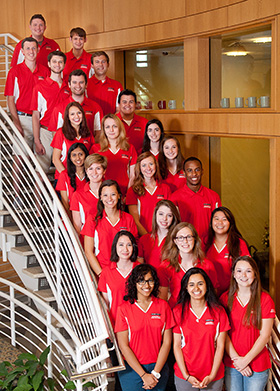 The NC State Computer Science Department is pleased to welcome the latest additions to the NC State University Department of Computer Science Student Ambassador Program.
Now entering its fourth year, the program promotes leadership and life skills by offering the Ambassadors the opportunity to represent our department at a variety of academic, social and networking events held throughout the academic year, and through personal interface with prospective students through our outreach efforts. Ambassadors are the first point of contact for many visitors to NC State, so they are required to promote the University, the College of Engineering, the Computer Science Department, and the computer science discipline.
The 2015 CSC Student Ambassadors are (new ambassadors in bold face):
Seniors – Sneha Bhalodia, Meredith Boatner, Remington Campbell, Anna Dubovitskaya, Michael Goff, Brendan Kelley, Lauren Koepnick, Johnny Nguyen, Vatslav Orlov, Jonathan Poston, Robert Shipley and Erin Snider;
Juniors – Wesley Coats, Mark DeMaria, Vanessa Frost, Anna Gass, Kylie Geller, Elizabeth Gilbert, Alisse Harkins, Veeha Khanna, Caroline Law, Robert Reichel, Maya Shankar, Jacob Stone, and Laurel Timko;
Sophomores – Thomas Josephson, Paige Rubendall, Carolyn Thompson, and Noah Unger.
All Student Ambassadors are matriculated CSC undergraduate majors at the sophomore level or higher. Applications and nominations are taken in the spring and the competitive selection process includes an interview and group feedback from a special mixer event. Ambassadors work in one-year terms, renewable until they graduate, at the discretion of the department leadership based on overall participation, performance and academic progress.
The CSC Ambassadors would like to extend their appreciation to their ePartner sponsors for the 2015-16 academic year including AirWatch, Belk, Blackbaud, Boeing, Cisco, Citrix, Credit Suisse, Duke Energy, Eastman, Inmar, Ipreo, MetLife, Merck, NetApp and Vanguard. Their support provides funds to cover special events, outreach-related travel, branded attire, service awards and a year-end recognition event. Sponsors have the opportunity to engage directly with the ambassadors group via structured opportunities such as dedicated mixers, panels, info sessions and/or development sessions.
Learn more about each CSC Student Ambassador here.
~coates~
Return To News Homepage