CSC News
August 31, 2015
ePartners Career Connection Scheduled for September 28th
On Monday, September 28th, the NC State Department of Computer Science will host its annual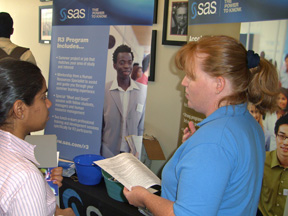 ePartners Career Connection event, 12-4 pm. With a record 37 companies participating, recruiting companies will be located in both the Hunt Library's Duke Energy Halls A,B & C, as well as in Rooms 3001 & 3002 in Engineering Building 2. Specific locations of participating companies provided below.
This recruiting and networking fair is provided exclusively for the benefit of computer science students and the department's most valued corporate partners.

While each company participating has unique needs, the spectrum of career opportunities span coop, intern, part-time and full-time opportunities.

Students are asked to bring their resumes and dress professionally. Students are also asked to update their resumes online through the University's ePack system, as many event participants have indicated they will be pre-screening potential candidates and extending targeted invitations.

Approximately 800 computer science students are expected to participate in the event.
Companies located in EB2 Rooms 3001 & 3002:
Allstate
Belk
Blackbaud
Cisco
Duke Energy
Eastman Chemical
IBM
iCiDigital
Inmar
Intel
KPIT
Oracle
Sageworks
Spirent

Companies located in Hunt Library's Duke Energy Hall, Rooms A, B & C:
AirWatch
Applied Systems
Arista Networks
Bandwidth
BCBS of NC
Boeing
Bronto
Credit Suisse
EMC
Facebook
Fidelity Investments
Interactive Intelligence
Ipreo
LexisNexis
Merck
MetLife
NetApp
PointSource
Premier
Red Hat
Riverbed
SAS
Schwab
Vanguard
VMware
Return To News Homepage