CSC News
August 25, 2015
I'm Lauren Schaefer and My Degree Has Made Me a Globetrotter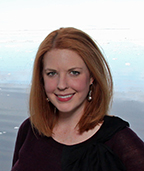 Lauren Schaefer
, a graduate of the NC State Computer Science Department, has brilliantly mastered the art of mixing business with pleasure. Her enthusiasm for agile coding in cloud computing has made her highly popular on the speaking circuit. She has managed to spread her message worldwide and has also had a pretty good time while doing it.
Having designated 2014 as her official "year of travel," Schaefer passionately delivered her work message while still managing to visit the Holy Land, experiencing a safari in Kenya, and speaking in Las Vegas and Orlando. Who would have thought that the little Girl Scout who made a website for a nonprofit to gain her Gold Award, would become an international draw on the computer science speaking circuit?
Not one to call attention to herself, Schaefer quickly credited her strong educational foundation at NC State for her career success, naming her graduate school advisor Dr. Laurie Williams as her inspiration for the ultimate female computer science professional.
"Role models are huge for me and Laurie was that role model," she said. "She had a family, walked all over campus in her high heeled shoes and was incredibly well-respected. I loved that about her."
After completing a student internship with IBM, Schaefer's career trajectory landed her with IBM after graduation. Being flexible by nature benefitted her, as she switched teams every year to learn new technologies within the company. As her job changed, so did her life, by getting married and relocating to join her husband Jason as he pursued his career path. Not willing to let go of a good thing with IBM, Schaefer was able to obtain a work from home position and soon moved to Maryland, working as a Java developer.
While working remotely, Schaefer became a go-to person for expertise on how to make the experience as productive as possible. When IBM sought employees to make presentations both stateside and abroad, she jumped at the chance, seeing it as a great opportunity to expand professionally, while also tapping into her and Jason's love of travel.
Even as a self-described introvert who loves alone time to decompress, Schaefer faced challenges like stage fright and constant companionship during her travels. Instead of shrinking from the experiences, she considered the learning curve a gift and relied on her faith, her education, work experience and tenacity to get the job done.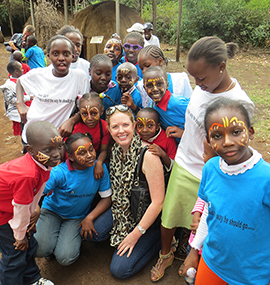 That faithful tenacity once again rewarded Schaefer with an experience that both moved her personally and professionally. Following a rigorous application process, she was chosen for a four week trip to Kenya as part of the IBM Corporate Service Corps program. The opportunity was a huge honor, as it is highly competitive service program where teams of selected employees are sent to remote locations across the globe to work with underserved communities.
"Our team worked with the SOS Technical Training Institute (SOSTTI), whose mission is provide vocational training to those who may not have completed secondary school or who do not go onto university," she said. "They aim to take those who have been forgotten and turn them into self-sustaining champions."
Schaefer's team worked with SOSTTI on recommendations for eLearning, marketing and communications, how to enhance curriculum for jobs in the digital economy, and how to build partnerships.
Did she make an impact on Kenya?
"I'm not sure I made an impact professionally, but I hope to have made an impact on the people I met," she said. "I met so many primary school kids who nearly pushed me over with hugs, teaching me songs and playing with me. I also met so many young women who had many hardships in their lives. I hope our work with SOSTTI will change their lives for the better. They showed me how to love a stranger and I hope I was able to help impact them in a positive way as well."
Return To News Homepage