CSC News
May 28, 2015
The Graduate School Celebrates Student Success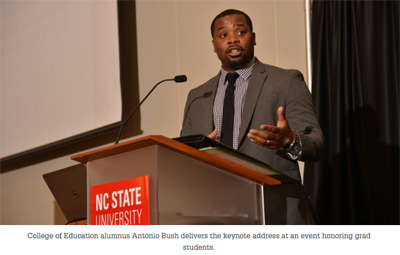 As the school year ended, the Graduate School recognized more than 100 graduate students and postdoctoral scholars who participation in the Preparing Future Leaders (PFL) professional development programs and the Thesis and Dissertation Support Services (TDSS) programs.
The Celebration of Graduate Student Success honored participants who completed the Certificate of Accomplishment in Teaching program, the STEM & Annual Writing Partnership, the Mentoring and Teaching Practicum, the Preparing the Professoriate program and the Dissertation Institutes. More than 100 colleagues, friends, family, faculty and staff members attended an ice cream social to celebrate NC State's commitment to excellence in professional development.
Preparing Future Leaders is the Graduate School's inclusive community where emerging innovators learn to excel. PFL's mission is to inspire the life-long leader in all graduate students. The PFL Leadership Team offers evidence-based programs, support, and coaching that guide graduate students through the best practices of leadership. Our premier community exemplifies creative engagement, reflective practice, and multi-disciplinary collaboration. Since 2007, PFL has delivered 727 events to more than 16,000 participants.
Thesis and Dissertation Support Services empower graduate students to finish their degrees by helping them understand the process of writing a thesis or dissertation. The TDSS Leadership Team provides workshops, seminars, Dissertation Institutes, an online Dissertation Completion Community and personal coaching, all grounded in principles of scholarly writing. The mission of TDSS is to support students across every discipline of the university with our multi-disciplinary approach to academic writing instruction.
NC State Provost Warwick Arden congratulated the students and postdocs who participated in the PFL and TDSS programs. "You are our next generation of leaders in the academy, in industry, and in our communities," Arden told the honorees. "Many of you are already shaping the future with your commitment to teaching, research, leadership, and service…You are critical to the success of NC State."
Graduate School Dean Maureen Grasso recognized the participants for their commitment to success and their dedication to professional development. "Graduate students play a vital role in the key missions of NC State: you teach, you research, you mentor and you lead," Grasso said. "The Graduate School provides a variety of programs and resources to support your professional development while you do this essential work."
Dr. Antonio Bush, a graduate of the College of Education and alumni of Preparing Future Leaders program, served as the keynote speaker for the event. Bush participated in PFL's first Ambassador Program, where he helped promote PFL's story across campus, he served on panel discussions at New Graduate Student Orientation, and he has attended many PFL events. He shared tips for succeeding in graduate school: Write your own definition of success, create a "power circle" of those who support you, and take care of yourself.
"When I think about success," Bush said. "I realize that it's not about me. It's never about me. It's about what I can do with my triumphs, victories, failures and position that will be of benefit for others either directly or indirectly."
"PFL was definitely a part of my power circle. PFL was a collection of people who I know were, at the time and to this day, still committed to my success."
Arden, Grasso and the leaders of the Thesis and Dissertation Support Services and Preparing Future Leaders programs awarded 90 certificates to graduate students and postdocs who successfully completed professional development programs. For a complete list of honorees, visit the website:
The recipients of each award are listed below:
Certificate of Accomplishment in Teaching Graduates, Fall 2014-Spring 2015
Rachel Atwell, Crop Science
Nicholas Basinger, Horticultural Science
Jennifer Bedard, English
Sophia Carrell, Chemical and Biomolecular Engineering
Lucas Castle, Mathematics
Amanda Cooper, Chemistry
Cassie Curtis, English
Erica Cutchins, The Graduate School
Cristiane Damasceno, Communication, Rhetoric and Digital Media
Allison DeVille, English
Ignacio Domínguez, Computer Science
Robert Duke, Marine, Earth, and Atmospheric Sciences
Steven Dundas, Economics, Management
Kristie Ellison, English
Miranda Forman, English
Christopher Giguere, Economics
Dr. Selin Guney, Economics
April Hamblin, Entomology
Sang-Won Han, Plant and Microbial Biology
Heather Harris, English
Stephanie Hollingsworth, Plant Biology
Megan Jaunich, Civil Engineering
Gavin Johnson, English
Michael Just, Plant Biology
Engin Kapkin, Design
Johanne Laboy, Communication, Rhetoric and Digital Media
Colby Long, Mathematics
Kyle Lowers, Communication
Sarah Lyons, Animal Science
Haritha Malladi, Civil Engineering
Suzanne Martin, Public Administration
Al-Sayed Mashaheet, Plant Pathology
Emily Meehan, Mathematics
Allison Michaelis, Marine, Earth, and Atmospheric Sciences
Seyedehmahsan Mohsenin, Design
Basheer Nusairat, Animal Science and Poultry Science
Jean-Sébastien Palerme, College of Veterinary Medicine Teaching Hospital
Vanessa Pietras, Foreign Languages and Literatures
Candalyn Rade, Psychology
Shaghayegh Rezaei, Textile Technology Management
Carl Rice, History
Joan Roque, Chemistry
Jordan Smith, English
Stephen Smith, Marine, Earth, and Atmospheric Sciences
David Suchoff, Horticultural Science
Tara Watterson, Communication
Leslie Wilson, Chemistry
Zheng Yang, Public Administration
STEM & Writing Annual Partnership, 2014-2015
Dr. Nathaniel Grubbs, Entomology, First Year Writing Faculty Partner: Bridget Kozlow
Felix Kaess, Materials Science and Engineering, First Year Writing Faculty Partner: Laura Waldrep
Dr. Jaap B. van Kretschmar, Integrated Pest Management, First Year Writing Faculty Partner: Chad Lewis
Kenneth Mineart, Chemical and Biomedical Engineering, First Year Writing Faculty Partner: Peter Link
Dr. Jennifer N. Niemuth, Clinical Sciences, First Year Writing Faculty Partner: Anne Auten
Gina-Maria Pomann, Statistics, First Year Writing Faculty Partner: Megan Hall
Daniela Magdalena Sorger, Zoology, First Year Writing Faculty Partner: Matt Porter
Dr. Amanda Sutherland, Mathematics, First Year Writing Faculty Partner: Wanda Lloyd
Anila Yadavalli, Mathematics, First Year Writing Faculty Partner: Meredith Dangel
Preparing the Professoriate Fellows & Mentors, 2014-2015
Ruth Adikorley, Textile and Apparel, Technology and Management, Mentor: Dr. Kristin Thoney-Barletta
Christine Brown, Biological Sciences, Mentor: Dr. Craig Layman
Elisabeth Brown, Mathematics, Mentor: Dr. Alina Chertock
Michael Browne, Biomedical Engineering, Mentor: Dr. Andrew DiMeo & Dr. Gregory Sawicki
Alexander Combs, Mathematics, Mentor: Dr. Molly Fenn
David Cornejo, Operations Research, Mentor: Dr. Stephen Roberts
Ignacio X. Domínguez, Computer Science, Mentor: Dr. Robert Fornaro & Ms. Margaret Heil
Thomas Greene, Leadership, Policy and Adult and Higher Education, Mentor: Dr. Audrey Jaeger
Steven Grodsky, Forestry and Environmental Resources, Mentor: Dr. Clyde Sorenson
Jiangchuan Hu, Civil, Construction, and Environmental Engineering, Mentor: Dr. Christopher Frey
Jennifer Kimball, Crop Science, Mentor: Dr. Susana Milla-Lewis & Dr. Michelle Schroeder-Moreno
Colby Long, Mathematics, Mentor: Dr. Brenda Burns-Williams & Dr. Ernest Stitzinger
Clyde Manuel, Food Bioprocessing, and Nutrition Sciences, Mentor: Dr. Keith Harris
Stephanie Mathews, Plant and Microbial Biology and Forest Biomaterials, Mentor: Dr. Amy Grunden
Emily Meineke, Entomology, Mentor: Dr. Thomas Wentworth & Dr. Nick Haddad
Kenneth Mineart, Chemical and Biomolecular Engineering, Mentor: Dr. Matthew Cooper & Dr. Lisa Bullard
Margaret Rahmoeller, Mathematics, Mentor: Dr. Kailash Misra
Anant Raj, Nuclear Engineering, Mentor: Dr. Jacob Eapen
Dr. Amanda Sutherland, Mathematics, Mentor: Dr. Kyle Thompson & Dr. Ernest Stitzinger
Laura Whitlock, Psychology, Mentor: Dr. Douglas Gillain
Yao Yu, Industrial and Systems Engineering, Mentor: Dr. Yunan Liu & Dr. Julie Ivy
Mentoring and Teaching Practicum – Graduates and Mentors, Fall 2014-Spring 2015
Dr. Krishnamraju Ankireddy, Textile Engineering Chemistry and Science, Mentor: Dr. Jeffrey Glass, Duke University
Dr. Alexis M. Barbarin, Entomology, Mentor: Dr. Eric Butler, Shaw University
Dr. Almuatazbellah Boker, Electrical and Computer Engineering, Mentor: Dr. Michael Zavlanos, Duke University
Rahim Jindani, Fiber and Polymer Science, Mentor: Dr. Libby Bucholz, Duke University
Dr. Brett Lehman, Sociology and Anthropology, Mentor: Dr. Shelly Brown-Jeffy, University of North Carolina—Greensboro and Dr. Chelsea Salinaz, Duke University
Dr. Catherine McCusker, Chemistry, Mentor: Dr. Karl Sienerth, Elon University
Meredith McQuerry, Textile Technology Management, Mentor: Dr. Nina Bostic, Meredith College
Dr. Warren Sconiers, Entomology, Mentor: Dr. Jeffrey Coker, Elon University
Alana Unfried, Statistics, Mentor: Dr. Kristie Doehler, Elon University and Dr. Meredith Williams, Campbell University
Dissertation Institute Participants
Shannon Becker, Comparative Biomedical Sciences
Amanda Clayton, Economics
Dr. Kunsheng Fang, Parks, Recreation, and Tourism Management
Syed Hussain, Electrical and Computer Engineering
Dr. Boopathy Kombaiah, Nuclear Engineering
Dr. Po-Chen Lin, Industrial and Systems Engineering
Dr. Jong Seon Lee, Design
Dr. Muntazar Monsur, Design
Seth Mulliken, Communication, Rhetoric, and Digital Media
Robert Snyder, Biomedical Engineering
Keeley Stevens, Physics
Dr. Lisa Tichavsky, Sociology and Anthropology
Kewei Xu, Fiber Polymer Science
Dr. Alison Amos, Biomedical Engineering
Dr. Jeffrey Kyle Covington, Leadership, Policy and Adult & Higher Education
Teresa Cunningham-Brown, Leadership, Policy and Adult & Higher Education
Dr. Elizabeth Johnson-Young, Communication, Rhetoric, and Digital Media
Brandi Leach, Sociology
Amanda Liesch, Soil Science
Drew Marticorena, Plant Pathology
Nadia Monrose Mills, STEM Education
Christina Ndoh, Public Administration
Andrew Pais, Plant and Microbial Biology
Dr. Christine Pesetski, Leadership, Policy and Adult & Higher Education
Lingjiao Qi, Chemistry
Ticola Ross, Psychology
For more information about the Graduate School's Preparing Future Leaders initiative: go.ncsu.edu/pfl
For more information about the Graduate School's Thesis and Dissertation Support Services: go.ncsu.edu/tdss
Return To News Homepage