CSC News
July 06, 2004
24 Senior Design Team Projects Presented at Spring Posters and Pies
For over 10 years, computer science undergraduates have been pulling together all they've learned to complete projects posed to them through the capstone CSC 492 course. They're led in their efforts by
Dr. Robert Fornaro
, professor and director of the Senior Design Center.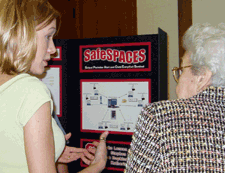 "The center was created to help students develop the teamwork, leadership, and communication skills that are essential for today's increasingly competitive global workforce," Fornaro says.
"As the technology industry continues to grow and advance, the analysis and problem solving skills that our students master will be increasingly valuable, and they will help set our students apart as they meet potential employers," he says. "The projects and mentorship support of our sponsors are a very important part of the total education that we provide here at NC State."
Sponsoring companies or units within NC State provide a software problem or project-in-process for the student teams to analyze and resolve, working with a company mentor. Duke Energy and Fujitsu are among the first sponsoring companies.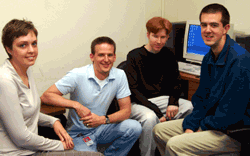 During the 2003-04 academic year, a total of 165 students worked on 42 sponsored projects through this course. Spring semester projects ranged from software for a new voice-activated alarm clock being developed by Tavve to software linking tablet PCs for interactive classroom use. The lineup included computer science students providing software support for three multidisciplinary teams developed through the College of Engineering's new Engineering Entrepreneurs Program.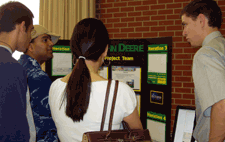 Summaries of the students' projects were presented at the April 27 Posters & Pies, attended by about 300 parents, students, sponsors and other guests, including several Raleigh television reporters. Posters & Pies programs mark the conclusion of each semester's projects.
On the SDC staff are Margaret Heil, associate director; Carol Miller, faculty advisor; Kelly Potter, technical communication advisor; Ben Tilley, laboratory manager; Steve Bento, faculty advisor; and John Stone, technical support.
For information about sponsoring a project, contact Ken Tate, director of alumni and corporate relations for the computer science department, at tate@csc.ncsu.edu; phone: 919-513-4292.
Red Hat sponsored four this year. Fujitsu came back for its seventh year, as did Duke Energy.
Over a dozen other companies, all computer science ePartners Program members, enjoyed the benefits of being involved in the computer science department's Senior Design Center in the spring of 2004. The center manages the computer science department's Senior Design Project capstone software class.
In fact, in the 10 years since Dr. Robert Fornaro launched the class, over 500 students have worked with more than 70 companies on sponsored projects.
Red Hat sponsored four teams in Spring 2004, working on various aspects of current company projects, including the launch of the Red Hat Network.
At Fujitsu, Vice President and CIO Gene Senecal says the sponsored project program "is truly a win, win, win for everyone."
"Students get a glimpse of the real world, working on real problems with real business meaning. They get to experience the same pressures and challenges they will soon encounter when they graduate," Senecal says.
"Those who have participated in this program have universally said that (it) afforded them the best opportunity during their academic life to prepare themselves for the future," he says.
Senecal adds that the benefits of such corporate involvement accrue to the university as a whole as well.
NCSU benefits from having a strong and effective component as part of its curriculum. The community and industry benefit in that the students coming out of this program are better prepared to meet the challenges of the real world.
The sponsors and mentors receive a tremendous sense of satisfaction knowing that they have been instrumental in shaping today's program, and helping to further someone's education.
Senecal says he has found his years of involvement with the program to be personally as well as professionally rewarding.
"From the very beginning, the program presented by Dr. (Robert) Fornaro and Ms. (Margaret) Heil showed tremendous potential and promise. Working together with them over the past several years, helping to shape the program to what it looks like today, seeing the effects the program has had on the students, and witnessing the pride of the mentors with every successful class that goes through this program is reward in and of itself," he says.
"We truly believe the efforts, like those made by Fujitsu Transaction Solutions and the other sponsors, are an investment in our community, our future. Given the economic and resource pressures faced by our universities today, the private sector and citizenry have an ever increasing responsibility to 'step up to the plate' and to invest in programs such as this wherever and whenever they can. We need to support our institutions of higher learning to help position them to meet the needs of the students' needs that are required for success in an increasingly competitive global marketplace."
- rzewnick -
Return To News Homepage