CSC News
April 21, 2015
Heil Appointed Director of CSC Senior Design Center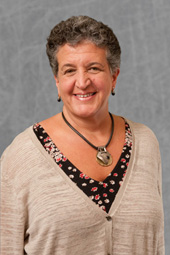 Ms. Margaret Heil, interim director of the NC State Computer Science Department Senior Design Center (SDC), has been appointed Director of the Center effective January 2, 2015.
"Margaret is an outstanding teacher and mentor who has been instrumental in the growth and success of the Senior Design Center," said Dr. Laurie Williams, Acting Department Head of the Computer Science Department. "We are very fortunate to have her assume the role of Director, and our students will surely continue to benefit from her guidance and support."
Heil, who joined the computer science department in 1996, was a co-mentor of three winning student teams of the IEEE Computer Society International Design Competition (CSIDC): 2003 – 3rd Place; 2005 – 1st Place; 2006 – 1st Place (Note: this was the first time in the history of CSIDC that students from any university in the world placed first in the competition in two consecutive years. Click here for more information.) She has helped lead the Senior Design Center in many capacities since joining the department: Team Coodinator (1996-2001), Assistant Director and Team Coordinator (2001-2004), Associate Director and Team Coordinator (2004-2011), Interim Director (2011-2014), and finally Director beginning in 2015.
Heil was inducted into the NC State Academy of Outstanding Teachers in 2010. She is a pioneer in exploring communication techniques with computer science students, working with them to refine their communication skills both as individuals and members of a team. She has been invited to speak about the SDC and to conduct workshops related to her work at both the national and international level.
Prior to joining the department, Heil worked for Hazleton Laboratories as a study coordinator managing various elements of toxicology studies, including the creation of written documents and client interim reports. She then joined the University of Wisconsin – Madison's Food Science Department to supervise and manage their renowned Taste Panel operation. She regularly coordinated volunteer groups and was invited to facilitate committees and meetings for various organizations, which led her to the NC State's Industrial Extension Service's Team Specialist Certification Program.
Heil earned her undergraduate degree in Biology and English Literature from McGill University (Montreal Canada) and a Masters degree from NC State in Technical Communication. She also has a Team Specialist Certification from NC State's Industrial Extension Service
. For more information on Heil, please click here.
Return To News Homepage