CSC News
June 10, 2004
Summer campers get taste of computer science, college life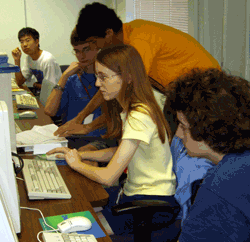 Tania Kimball (center right) says she wants to major in computer science after finishing her senior year at Eastern Wayne High in Goldsboro.
Getting a chance to learn what that might mean brought her to the week-long computer science program offered for high school students as part of the College of Engineer's annual summer camp series.
Kimball was one of 15 attending the first session of the summer camp, held June 7-11. A second group of 15 is attending the following week, and a third group of about 30 students, coming June 21-25, will spend one day learning about computer science, and four days in other engineering departments.
The summer camps, managed through the College of Engineering's Office of Academic Affairs, was designed to provide high school students a hands-on experience in various engineering departments.
"We have been offering summer camp experiences for seven years now," says Kay Leager, director of enrollment management for the college. "We think this is a great opportunity for students to experience the college in a residential setting and, of course, we hope they all come here as freshman and have a slightly easier transition from having been through the camp," she says. The students also get a chance to meet with other engineering students -- students with whom they may stay in touch and develop a friendship after enrolling here, she says.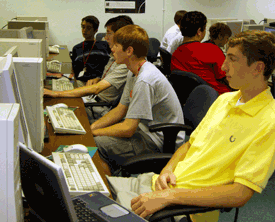 Getting a sense of what the college environment is like is one of the things that Cameron Bain (front right), a junior at Arendell Parrott Academy in Kinston NC, said he enjoys about the camp.
Students attending the camp came with varying levels of computer knowledge. Kimball says she doesn't know much about coding, so she focused on helping with the graphics as her team tackled their project -- building a computer game.
She got interested in computers mainly from watching her father work on his as she grew up."I thought it would be fun" to learn about programming, and it has been, she says. "Even if the game is a dud, it was fun designing it."
Bain, on the other hand, has been playing games on computers at home since he was about four years old, he says, and gradually moved into the role of computer technician at his home as he got older. In his early teens, he "got away from it" a bit, he says, as his circle of friends grew and he got interested in other activities. He came to the camp at the suggestion of his counselor.
"She asked what I was good at and I told her computers and engineering, so she suggested this," he says. After four days at camp, he says it was a good experience. "It's a good program; intelligent teachers," he says.
Bill Yeung (top photo, top left), a senior at Goldsboro Day School, says he's enrolled in a Java class for the fall and came to the camp to "get a little sense of what it's like," he says. He says he enjoys being able to use the technology and equipment available to the summer campers.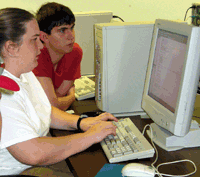 Mackenzie Corcoran (center left), who will be a junior at Cardinal Gibbons High School in Raleigh, says she knows she wants to work in computer science and came to learn more about what it entails. She already has a pretty good idea -- she's taken one honors computer science class at school and is enrolled in an advanced placement class for the fall. She also has been sharing her computer skills at a retirement home through her high school's volunteer program.
The engineering summer campers aren't glued to their keyboards the entire time, Leager says. They live in NC State residence halls and participate in other activities, including an evening game of capture the flag and a trip to Funwerks.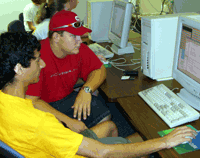 Brian Statler (front left), a senior at Croatan High School in Newport NC, said he came to the camp to learn about computer science because he "wasn't sure about it." He says he plans to enroll in engineering, but possibly in another discipline. But he was enjoying the camp. "It's a lot of fun, good activities at night, then come in here and build games," he says.
The Computer Science Summer Camp program was managed this year by Tiffany Barnes, computer science post-doctoral researcher and Michael Etherige, an area high school teacher and computer science graduate student, assisted by Colin Moore, a spring 2004 graduate from the computer science bachelor's degree program, and Irena Rindos, a high school student who also is a counselor with this summer's Girls on Track program.
- Story and photos by Anna Rzewnicki -
Return To News Homepage