CSC News
March 31, 2015
Senior Design Center's "Posters & Pies" Planned for April 27th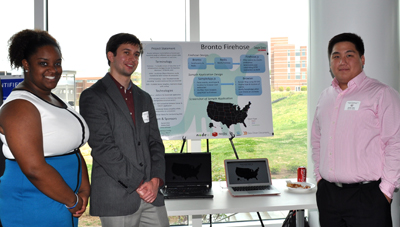 The public is cordially invited to attend the NC State Department of Computer Science Senior Design Center "Posters & Pies" event on Monday, April 27, from 6:00-9:00 p.m.
Project presentations will be held 6:00-7:15 p.m. in the James B. Hunt Jr. Library Auditorium on NC State's award-winning Centennial Campus. Posters and demonstrations will be displayed 7:30 p.m. - 9:00 p.m. in Engineering Building 2 – rooms 3001, 3002 & 3211. Dinner (salad and pizzas/dessert pies) will be provided.
The event is sponsored by the Computer Science Department's ePartners, EMC, NetApp and Farragut Systems, as well as the ePartners Program and the NC State Engineering Foundation.
This semester, the sponsors and projects are as follows:
Allied Telesis

: AlliedView Web Application

Bandwidth

: Service Maker – AWS for Forgetful Developers

Boeing

: Boeing Configurator

Bronto

: Bronto Product Recommender

Cisco I

: Practical Application of Sentiment Analysis

Cisco II

: How to Wrestle an Elephant

Deutsche Bank Global Technology

: Flexi – A Design Collaboration Space

EMC

: Efficient Random Writes

Entrepreneurs

: Panoplay – A New Way to Discover Music

Fidelity Investments

: Containers & Performance Indicators

Fujitsu America

: RetailBuddy

Humana

: Interface Self-Service Market Place

IBM

: CRSXVIZ Visualizer

Infusion

: Gestures

Inmar

: Vizmar

InspectionXpert

: How to Train Your Tesseract

Ipreo

: LogoPro

IronData

: Drools Rules

KPIT

: Creoview Augmented Reality

Laboratory for Analytic Sciences

: Game Analytic & Modeling Engine

LexisNexis

: Email Slicer

Liquid Narrative Group

: Bardic Cinematic Presenter

Merck

: Columbus – Data Discovery

MetLife

: MetLife IDI Makeover

NetApp

: RumRunner

Oracle

: Look Ma, No Hands – Automated Web Application Testing in DVAT

SAS

: Javascript Dependency Analyzer

Schwab Performance Technologies

: Financial Goal Tracker

Strategic Motion Video

: Video That Talks Back

Xpient

: Xpient Google Glass
Please come join us! The media is welcome to this event.
Senior Design Center contacts:
Media & Corporate Partnership contact:
Return To News Homepage