CSC News
March 30, 2015
Kalia Receives ARL ORISE Fellowship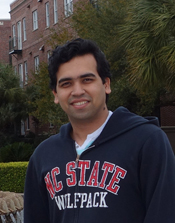 Anup Kalia
, a PhD student in the NC State Computer Science Department, has been selected for an appointment to the Student Research Participation Program at the U.S. Army Research Laboratory (USARL). Kalia will be working on the project titled "Training Effectiveness Analysis and Metrics (TEAM).
Abstract
– Advances in communication and information technology provide an unprecedented opportunity to enhance organizational effectiveness through cutting edge assessment of individual, team, and organizational-level constructs. The research associate will assist with research on automatic, real-time measurements of individual, team, and organizational performance through advanced analytical methods including social network analysis. The research associate will include analysis of existing datasets that include complex communications data (e.g. email, chat, telephone, face-to-face) and survey-based measures to advance capabilities of assessing dynamic team states, processes, and outcomes in hierarchical organizations. Focus will be placed on developing performance-related algorithms that can be applied in training and operational domains.
The program is administered by the Oak Ridge Institute for Science and Education (ORISE) through an interagency agreement between the U.S. Department of Energy (DOE) and USARL. Participants receive a monthly stipend of $5,000, and the appointment will run through summer and fall of 2015.
Return To News Homepage