CSC News
February 11, 2015
NC State Researchers Land UNC System Research Grants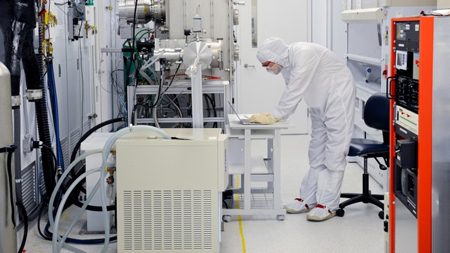 The University of North Carolina General Administration has awarded six three-year grants totaling nearly $9 million to support game-changing faculty research in areas of strategic importance to the state – and North Carolina State University is a partner in five of the six research initiatives. Each of the funded projects involves faculty partners from two or more UNC campuses.
Faculty teams from NC State, UNC-Chapel Hill, UNC Charlotte, North Carolina Central University, and East Carolina University will use the first UNC Research Opportunities Initiative (ROI) awards to advance collaborative research projects that range from developing new carbon electronics to supporting big-data science analytics to engineering new drug-delivery technologies to speeding the large-scale manufacturing of vaccines against deadly viruses such as Ebola.
UNC ROI is funded by a recurring $3-million annual appropriation from the 2014 General Assembly, representing North Carolina's first financial investment in the UNC system's five-year strategic plan. Priority research areas eligible for ROI funding include advanced manufacturing; marine and coastal science; defense, military, and security; pharmacoengineering; energy; and data sciences.
"The ROI provides targeted funding for innovative and potentially game-changing projects," said Christopher Brown, UNC Vice President for Research and Graduate Education. "These awards, which will advance cutting-edge research at UNC institutions, also demonstrate legislators' growing appreciation of the role university research can play in supporting economic development across our state."
Following a competitive process that began with 74 pre-proposals seeking $105 million in total funding, the winning proposals were selected through a rigorous review process led by the American Association for the Advancement of Science. Summaries of funded three-year projects involving NC State follow:
NC Carbon Materials Initiative: Materials Design, Processing, and Manufacturing for Defense and Energy Needs
, NC State University: $2,829,994. Partnering institutions include North Carolina Central University and UNC-Chapel Hill. Led by Harald Ade, NC State distinguished professor of physics.
Carbon electronics may offer new opportunities to address energy, defense, and manufacturing challenges. Traditional silicon-based materials are rapidly approaching their fundamental limits in terms of miniaturization and capacity. The work of Professor Ade and his colleagues will focus on carbon materials characterization and manufacturing. Investigators envision fundamental science advances that will open the door to revolutionary computing approaches, truly renewable energy sources, and self-sustaining systems such as self-powered greenhouses and integrated solar cell/algae growth ponds.
Salinity Gradient Energy – An inexhaustible Clean Energy Resource for North Carolina
, NC State: $997,966. Partnering institutions include UNC-Chapel Hill, the UNC Coastal Studies Institute, and East Carolina University. Led by Douglas F. Call, NC State assistant professor of civil, construction, and environmental engineering.
The natural salinity gradients along the North Carolina coast are an untapped yet significant energy resource. This project will advance a cutting-edge technology that can harness these gradients for electricity generation, energy storage, and wastewater treatment. The team, which includes multiple UNC universities, local start-up companies, consultants, and coastal utilities, will conduct a comprehensive technical, economic, and environmental assessment of this technology and its impact on North Carolina. The findings will help expand North Carolina's clean energy sector, attract industrial investment, and provide foundational research for future funding opportunities in coastal energy technology development.
Pharmacoengineering: Integrating Engineering with Pharmaceutical Sciences to Improve the Delivery of Therapeutic and Diagnostic Agents
, UNC-Chapel Hill and NC State: $1,830,000. Led by Michael Jay, UNC-Chapel Hill distinguished professor and chair of molecular pharmaceutics, and Frances Ligler, distinguished professor of biomedical engineering at NC State and UNC-Chapel Hill.
Investigators at UNC-Chapel Hill and NC State will lead pioneering efforts in the new field of pharmacoengineering–the marriage of pharmaceutical science with state-of-the-art engineering. They will collaborate to develop novel solutions to difficult challenges in therapeutic drug-delivery technologies to patients. Partnering scientists will focus on 1) the immune response to engineered nanomaterials to understand how the human body reacts to man-made materials intended for clinical use; and 2) developing genetically engineered non-embryonic stem cells for treating brain cancer and for heart regeneration.
North Carolina Data Science and Analytics Initiative
, UNC Charlotte: $2,168,379. Partnering institutions include NC State and the UNC-Chapel Hill Renaissance Computing Institute (RENCI). Led by Mirsad Hadzikadic, director of UNC Charlotte's Complex Systems Institute.
Data science innovations are essential to solving some of the nation's most significant science, education, and workforce challenges. Investigators propose to develop strategic research hubs of excellence that will position North Carolina as the national leader in fundamental and applied research in data science. The project will involve setting up a sustainable cloud-based infrastructure to enable big data collaborations, partnerships, and research initiatives that will bring together investigators from academia and industry, initially focusing on the problem of risk mitigation. These research activities have the potential to promote a sustainable big data science research and talent pipeline for North Carolina.
Bioengineering microalgae for large-scale production of therapeutic antibodies against Ebola, West Nile virus and rabies
, North Carolina Central University: $600,000. Partnering Institutions include UNC-Chapel Hill and NC State. Led by TinChung Leung, NCCU assistant professor of biology.
The deadly Ebola virus could potentially affect more than a million patients in 2015. The experimental drug ZMapp has been effective in saving patients who were critically ill, yet it is in short supply, and the production process takes several months to generate even small amounts of the drug. To fill this gap, researchers at NCCU, UNC-Chapel Hill and NC State will use a microalgae system to generate anti-Ebola antibodies rapidly and cost-effectively. As unicellular plants, algae can be cultured continuously to produce therapeutic proteins. Using bioengineered microalgae will speed up the biomanufacturing process of therapeutic antibodies against Ebola and other diseases.
Return To News Homepage