CSC News
March 17, 2015
Scholarship Endowment Honors Henry B. Rowe, Jr.
Award celebrates the life of this NC State alum and NC business leader!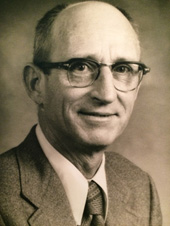 The Department of Computer Science at NC State University is pleased to announce the creation of the Henry B. Rowe, Jr. Scholarship Endowment honoring the NC State alum and North Carolina business leader.
This endowment is established by NC State alums Gerhard Pilcher ('85, B.S. CSC, '11, M.S. Advanced Analytics) and his wife, Denise Carlisle ('89, B.S. Multidisciplinary Studies), as a way to honor the life and legacy of Gerhard's step-father.
This endowment will provide scholarships for undergraduate students enrolled in any Computer Science degree program at NC State University, with preference that it be used to support a qualified student who is a contributing member of the Computer Science Ambassadors Program.
The endowment is being funded with an initial gift of $25,000 by Pilcher and Carlisle, as well as a matching $25,000 gift from Rowe's widow, Mrs. Erika Rowe, and it should produce its first scholarship awards starting in the 2016-17 academic year.
Henry (1919-1997) was a 1941 graduate of NC State in Chemical Engineering and served as editor of the Technician during his senior year. He was a member of a close-knit group of campus leaders (self named the "rail birds") that included William Friday, an educator who served as President of the University of North Carolina system from 1956 to 1986. Some of their exploits are captured in Mr. Friday's autobiography "Power, Purpose and American Higher Education" (1995, Second Edition 2013).
Although Henry graduated with a Chemical Engineering degree and went to work for DuPont in Richmond, Virginia, it was not his true passion. World War II interrupted his career at DuPont when he was drafted to serve with the Third Armored Division, rising to the rank of Major during the war. After surviving the war, Henry returned to his hometown of Mount Airy, NC and started a contracting business digging basements and grading other commercial sites in the area. Mount Airy Grading Company quickly grew into H. B. Rowe & Co., Inc. Today, millions of people have traveled more safely and conveniently over highways built by the company in North Carolina and Virginia including sections of I-40 from Hillsborough to Chapel Hill, US-52 from Pilot Mountain to Winston Salem, I-85 around Salisbury, I-40 from Marion to Old Fort, the interchange of I-77 and I-81 in Virginia, and the US-460 bypass around Pearisburg, Virginia.
Henry's companies were known for the same integrity as their founder. Hard work coupled with honesty and skilled personnel accomplishing quality construction has been a benefit to us all. These same qualities are a found in the company, Smith – Rowe, Inc., owned by his son David and grandson Locke Rowe.
Henry lived the belief that practical education was a precursor to a civil society that provides upward mobility for everyone willing to work hard with honesty and humility. He served on the local Board of Education in Mount Airy, NC from 1958 until 1967 and was chair of the board in 1966. His son David has carried on that tradition, also serving many years on the Mount Airy Board of Education. Henry also anonymously helped many people fund their college education. His devotion to education must have been fostered by the many "rail birds" meetings held in the Technician offices during his years at NC State.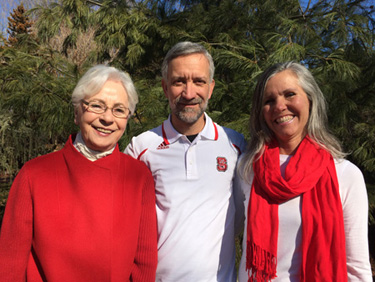 According to Gerhard Pilcher (shown here with his mother, Erika, and his wife, Denise), Henry believed in and encouraged him when he needed it most. "One late night, a highway patrolman stopped me for reckless driving," said Pilcher. "We preferred calling it 'speeding on roller coaster hill'. When he realized that Henry was my stepfather, he asked 'would Henry be proud of you for this?' I answered honostly, 'No sir, he would not.' Even later in life I continue to ask myself that same question before every important decision. Henry is the most important person I claim as a 'hero' in shaping my life."
To those who receive benefit from the endowment, let Henry's invisible presence be an encouragement to live those important qualities of hard work, honesty, and humility
.
Ken Tate, director of engagement & external relations for the department says, "The department is honored with the creation of this award remembering this great man and his contributions to education and the state of North Carolina." Tate adds, "We are particularly proud to be able to award this scholarship in perpetuity to a deserving member of our CSC Student Ambassador's Program."
The Henry B. Rowe, Jr. Scholarship Endowment joins a growing list of fully endowed scholarships that will provide perpetual support to future generations of computer science students. If you would like to contribute to this award, or explore just how easy it is to establish your own named and endowed scholarship, contact Ken Tate at tate@csc.ncsu.edu.
Article Contributors: Gerhard Pilcher, Denise Carlisle, Erika Rowe and David Rowe
Return To News Homepage