CSC News
February 04, 2015
Making Apps More Configurable in the Cloud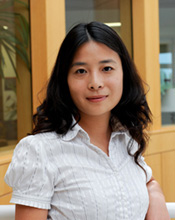 Dr. Xiaohui (Helen) Gu
, associate professor of computer science at NC State University, has been awarded $49,567 by Credit Suisse Securities, LLC to support her research proposal entitled "Cloud Configuration Management System for Elastic Application Deployment in Private Clouds."
The award will run from January 2, 2015 through August 15, 2015.
Abstract
–Cloud computing infrastructure provides an elastic application deployment environment. Applications can be dynamically instantiated on different physical hosts on demand. However, in order to fully explore the elasticity of the cloud infrastructure, applications should be able to automatically configure themselves when their components are placed in or migrated to different data centers at geographically distributed regions. Unfortunately, today's technology does not provide such an automatic configuration support. The application developer still needs to deal with the hassle of configuring their applications manually.
The objective of this project is to develop an automatic application configuration management framework that can decouple the configuration management from the application logic. We will develop an end-to-end distributed application configuration solution that provides automatic request mapping, component selection, and automatic deployment. Our framework aims at supporting both traditional software deployment and container-based cloud applications.
Return To News Homepage