CSC News
May 28, 2004
Jain receives Google Anita Borg Scholarship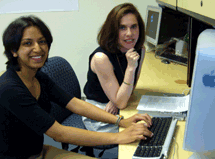 Neha Jain, currently in the Accelerated Bachelor's/Master's Degree Program at N.C. State's Department of Computer Science, was awarded a $10,000 2004
Google Anita Borg Memorial Scholarship
by the Anita Borg Institute for Women and Technology and Google Inc.
She was one of 19 finalists for the competitive awards. Google was originally going to award one graduate and one undergraduate scholarship, selecting from 19 finalists, but then decided to award four at each level, Jain says.
The winners were notified while on a Google-sponsored weekend excursion, May 21-23, to the company's Mountain View, Calif., headquarters and other Silicon Valley sites. The winners were selected based on the strength of their academic background, responses to short essay questions, letters of recommendation, performance during telephone interviews and financial need. Jain was selected from an initial field of 95 applicants from 67 colleges across the country.
Jain, originally from Punjab in northern India, has been interested in computer science since participating in a National Institute of Information Technology program in the tenth grade in Chandigarh, India. She is currently focusing her studies on software engineering, security and database design, "areas with lots of options," Jain says. In 2003, she was "the only girl" on a software engineering project team in her undergraduate computer science program at N.C. State, and admits that she "felt completely lost and out of place. I decided to talk with my professor about it, asking if there was a group I could join" to help her.
"She (Dr. Annie Antón, associate professor) was very supportive and gave me good feedback and encouraged me to see her weekly. I really liked the way she encouraged me and I asked if there were a project that I could work on with her," Jain says. Jain now is one of several students – three of whom had been in that class – working with Antón on National Science Foundation-funded software requirements and privacy policy research.
"This is the process of eliciting requirements for software systems, then codifying those requirements and verifying that they meet the specified needs," Jain explains of the work they are doing.
Since January 2004, she has been working with Antón on the analysis of online privacy policies related to the Health Insurance Portability and Accountability Act (HIPPA). "This law requires companies' systems to operate according to the practices expressed in their privacy policies regarding information gathered in the course of health care delivery," Antón says, noting that current laws also require that companies be able to demonstrate compliance using audit trails, for example. "Companies are struggling with this," she says.
Jain is continuing her work on this project through the summer as a research assistant, working with doctoral student Qingfeng He and master's/doctoral student Will Stufflebeam. The project focuses on:

Privacy from the end user's perspective, to help users better manage their privacy online. This includes finding ways to convey privacy information more clearly, enabling better privacy management by the end user;
Finding ways to better specify privacy policies when developing software requirements; and
Developing machine-enforceable policies, using flagging or denial features that are triggered at the machine level as the software is being used.
Jain's summer research is also part of the Computing Research Association-Women (CRA-W) Distributed Mentor Project, which pairs women undergraduate students in computer science with female professors for ten-week summer research projects. Jain is Antón's fifth mentee and this is Antón's fourth summer serving as a mentor in the program, an activity to which she is very committed.
Antón notes that "when undergraduate students are involved in research, they are much more likely to go on to graduate school." She says she herself would not have gone on to graduate school if she'd not been involved in research as an undergrad at Georgia Tech. Jain expressed similar feelings, saying that it was important for her to "feel the material she was working on would lead to something."
Currently working on her accelerated bachelor's/master's in computer science, Jain says she plans to go on for her doctorate and ultimately to teach, conduct research, or do both. Antón says Jain is "on a fast track" for that Ph.D. because she already has done so much research as an undergraduate.
The Google-Borg scholarship aims to help women like Jain attain their goals. Borg, who died of cancer in 2003, is known for her accomplishments in technology and her dedication to removing barriers for women and minorities seeking careers in the industry.
According an announcement on Google's Website, Borg "sought to revolutionize the way we think about technology and devoted much of her adult life to dismantling barriers that keep women and minorities from entering computing and technology fields." She received a Ph.D. in computer science from New York University and in 1987 started an email list called Systers that today has 3,000 members from all over the world.
In 1994, she co-founded the Grace Hopper Celebration of Women in Computing Conference and three years later, founded the Institute for Women and Technology, which launched programs and partnerships including the Virtual Development Center and the Senior Women's Summit. In 1999, President Clinton appointed her to the Commission on the Advancement of Women and Minorities in Science, Engineering, and Technology. She received the Heinz Award for Technology, the Economy, and Employment in 2002.
- story and photo by Anna Rzewnicki -
Return To News Homepage