CSC News
December 19, 2014
Department Confers Over 200 Degrees During Fall Diploma Ceremony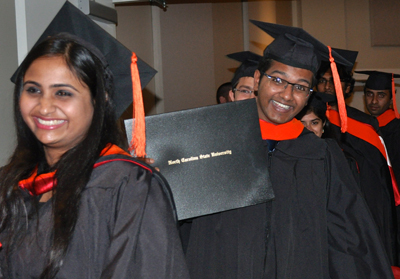 More than 200 undergraduate and graduate students celebrated their graduation during the Computer Science Department's Fall Diploma Ceremony held Wednesday, December 17 at Providence Baptist Church in Raleigh.
More than 1,000 relatives, friends, and guests were able to celebrate with the graduates on-site, while, thanks to Providence's live streaming capabilities, another 800 guests from as far away as India, the United Arab Emirates, the United Kingdom and France were able to be a part of the celebration, as well.
The graduating class included 18 Ph.D., 129 M.S., and 62 B.S. degrees, one of the largest graduating classes in the department's history, expanding the department's alumni base to well over 7,200.
The undergraduate class included one Valedictorian (perfect 4.0 GPA): Lara Stocks; one Computer Science Honors Program participant: Martin Locklear; two University Scholars Program participants: Richard Hopper and Xavier Primus; and numerous members of a variety of scholastic honor societies.
The top employers for this semester's graduates include Amazon, Cisco, Citrix Systems, Fidelity Investments, NetApp, SAS, and VMware.
Dr. Laurie Williams
, Acting Head of the Computer Science Department, congratulated the graduates on their accomplishments.
We were honored to have Wayne Clark, technology icon with more than four decades of meaningful contributions to the fields of computer science and networking, serve as our keynote speaker.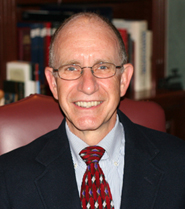 Clark confided that he had received his bachelor's degree 41 years ago this week, saying they must be asking "what does some guy with a very old computer science degree have to say that is meaningful to me?" He allowed his experience to provide them three valuable lessons. Lesson one - "A computer science degree has a shelf life and that shelf life is relatively short." He challenged the graduates to embrace the practice of continuous learning to keep their skills fresh and current. Lesson two - "In your professional life, your #1 concern is your own career." He challenged the graduates to take full responsibility for their own careers, noting that their employers willl not. Lesson three - "Over time, become a domain expert." He told the graduates that becoming a domain expert would allow them to provide the greatest value not only to their organization, but also to themselves. In his own career, he said when he recognized this transition was taking place, he was fortunate enough to become a technology architect and evangelist.

Providence Baptist Church provided a wonderful setting for the department's diploma ceremony, with comfortable accommodations and professional AV capabilities. DVDs of the ceremony are available for a nominal $25 processing fee (click here for order form). Additionally, a professional photographer took photos of each graduate as he/she received his/her diploma. For more information, please contact the photographer.
Our special thanks go to the Computer Science Department ePartners Program, its participating corporate sponsors, and the NC State Engineering Foundation for their generous sponsorship of this event.
Return To News Homepage