CSC News
November 18, 2014
CSC Fall 2014 Diploma Ceremony Set for December 17th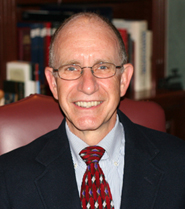 The NC State University Computer Science Department will hold its fall diploma ceremony on Wednesday, December 17th at 1:00 p.m. in the main sanctuary at Providence Baptist Church, located at 6339 Glenwood Avenue, Raleigh (directions).
We are honored to have Wayne Clark, technology icon with more than four decades of meaningful contributions to the fields of computer science and networking, serve as our keynote speaker.
Professionally, Clark may be best known for his executive leadership roles at Cisco Systems, where he served for almost two decades. He founded Cisco's IBM networking business unit in 1990 and was one of the leading advocates within Cisco in the early 90's for locating its east coast headquarters to the Research Triangle Park. He moved his family from the Silicon Valley to RTP in 1994 to help lead the transition and grow their local operations, and as a result, helped establish a very deep and robust partnership between Cisco and NC State University that flourishes to this day. While an alumnus of Ohio State and Santa Clara universities, Clark has a strong passion for education and very much considers himself a member of the Wolfpack family having served in a variety of leadership roles on campus over the years including stints as chair of the Hunt Library Technical Advisory Board and our department's Strategic Advisory Board.

Approximately 215 graduates are expected to receive their degrees during the ceremony. Because of the large crowd we anticipate, seating in the main auditorium will be available on first-come, first-serve basis. Overflow seating with live video feed will be available in an adjacent room. Family and guests are advised to arrive early.
Our special thanks go to the NC State Engineering Foundation and the ePartners Program for their generous sponsorship of this event.
For the convenience of guests who might require overnight accommodations, there are a number of hotels located in the immediate area. For more information, click here.
NOTE TO GRADUATES
: For the benefit of relatives and friends who may not be able to attend the event in person, the event will be available online via live video streaming at
http://go.ncsu.edu/csc-diploma
(COMING
SOON!).
There are several ways to commemorate this special occasion. As each graduate is handed his/her diploma, a professional photographer will take his/her picture. A free color proof will be sent to each graduate's current mailing address, including a password for online viewing. There is no obligation to purchase prints. To receive email notification when photos are online, please visit www.photospecialties.com to pre-register. If a proof is not received within a week of the ceremony, please contact info@photospecialties.com or call 1-800-722-7033.
In addition, Providence Baptist Church provides ample free parking, comfortable accommodations, and professional AV capabilities allowing for live broadcast of the ceremony from multiple cameras angles. DVDs of the ceremony are available for a nominal $25 processing fee. Contact Tammy Coates for more information.
Return To News Homepage