CSC News
November 17, 2014
Senior Design Center's "Posters & Pies" Planned for December 5th
The public is cordially invited to attend the NC State Department of Computer Science Senior Design Center "Posters & Pies" event on Friday, December 5, from 10:40 a.m. - 1:00 p.m.
Project presentations will be held 10:40 - 11:30 a.m. in the James B. Hunt Jr. Library Auditorium on NC State's award-winning Centennial Campus. Posters and demonstrations will be displayed 11:30 a.m. - 1:00 p.m. in the Hunt Library's Duke Energy Hall. Lunch (pizzas and dessert pies) will be provided. The event is sponsored by the Computer Science Department's Super ePartner, Boeing.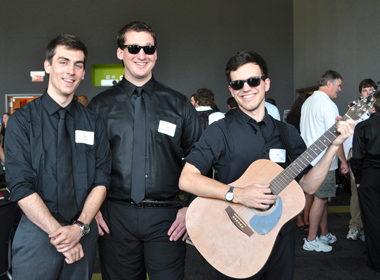 This semester, the sponsors and projects are as follows:
Bandwidth

: Escalator

Boeing

: Batch Scheduler Previewer

Bronto

: Ptery

Deutsche Bank Global Technology

: MovinUp

Duke Energy

: Energy Assistant

EMC

: Heat Map Project

Entrepreneurs

: YomNom!

Fidelity Investments

: Project Management Tool

Fujitsu America

: An Original Restful API

Humana

: Policy Management Engine

I-Cubed

: Legend Monitor

Ipreo

: Initial Public Meele

Laboratory for Analytic Sciences

: Making Kinections

LexisNexis

: Contact Grabber

MetLife

: R-VAMP – Risk & Vulnerability Assessment Management Program

NetApp

: MasonJar

SAS

:

LEADR (Layout Engine for Analytic Data Reports)

Xpient

: Google Glass Kitchen Display System
Please come join us! The media is welcome to this event.
Senior Design Center contacts:
Media & Corporate Partnership contact:
Return To News Homepage