CSC News
November 06, 2014
Vouk to Serve as Interim Research Chief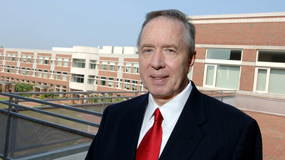 Cloud computing pioneer Mladen Vouk will serve as interim vice chancellor for research, innovation and economic development while NC State seeks a permanent leader for the high-performing division.
Vouk is a highly respect computer scientist and IEEE Fellow who has received both the IEEE Distinguished Service Award and Golden Core Award. A faculty member at NC State for more than 25 years, Vouk is head of the Department of Computer Science and associate vice provost for information technology. He takes the helm of the research office on Dec. 15.
Marc Hoit, vice chancellor for information technology, will lead a search committee to fill the position.
Chancellor Randy Woodson praised Vouk's leadership in computer science for the past 10 years, noting that the department's research funding has increased 7 to 10 percent annually on Vouk's watch through strategic collaborations with industry and government partners.
Vouk is the author or co-author of more than 300 publications. He has conducted groundbreaking research in software engineering, scientific computing and analytics, information technology and education, and high-performance computing. He is a member of the multidisciplinary team that developed the Virtual Computing Lab at NC State, one of the world's first cloud computing systems.
Vouk earned a Ph.D. in solid state physics at King's College London and a master's degree in computer science at NC State.
NC State's Office of Research, Innovation and Economic Development has experienced extraordinary growth in recent years, with new sponsored awards surpassing $300 million for the first time in the 2013-14 fiscal year. Since 2007 the overall value of new research awards has increased by 60 percent, federal awards have jumped 71 percent and industry awards have more than doubled.
-hunt-
Return To News Homepage