CSC News
May 17, 2004
180 computer science grads receive diplomas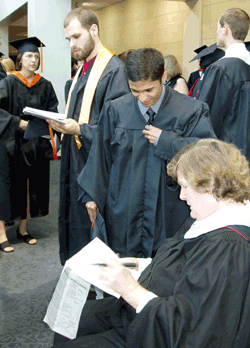 Candid photos capture some of the excitement before, during and after the 2004 Computer Science Diploma Ceremony, held May 15 at the Meymandi Concert Hall in Raleigh. The diploma ceremony offers the department a chance to formally recognize each graduate. Presenting the diploma ceremony address to the graduates this year was alumnus Gerhard Pilcher. The ceremony was sponsored by SAS, a computer science Super ePartner company.
Two of the graduates received doctoral degrees: Ian Beaumont Shields and Wei Zhang. Fifty-seven received master's degrees. Of those, 23 were in the master of science with thesis program; one was in the master's without thesis program. Two were in the master of computer networking with thesis, and six in the non-thesis networking program; 25 were in the master of computer science program.
There also were 121 graduating with bachelor's degrees. Of those, 20 are going on to graduate school and 36 have accepted positions in their field, with many more still in the interview process. One of the students going on to graduate school is moving directly into the doctoral program. Sixty percent of those receiving bachelor's degrees graduated with honors: 18 cum laude; 20 magna cum laude; and 34 summa cum laude. Of the latter, 11 had a 4.0 graduate point average.
See more
Spring 2004 Diploma Ceremony photos.
- Story and photos by Anna Rzewnicki -
Return To News Homepage