CSC News
October 28, 2014
Alumna Liz Hervatic is Jacuv, the Shamanic Artist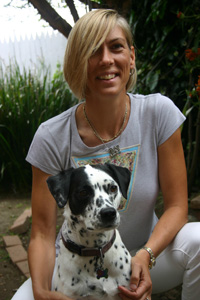 When is it time to change your life's course? What are the signs? Are they subtle, so that they sneak up on you or are as they jarring as your alarm when it wakes you from a sound sleep?
For Elizabeth "Liz" Hervatic, a woman who thought she had it all, her "aha" moment was when she realized her best friends were the concierge and doormen at the many hotels she stayed at over the course of her high powered career. For her, that realization catapulted her into a lifestyle and career change as different as night and day.
Hervatic, a graduate of the NC State Computer Science program, credits her experience at NC State for giving her the foundation to make a leap of faith mid-career. While she realizes that to some, hearing about a mid-life career change could be a mixed message, she sees her time as a computer science student as an enriching experience that enabled her to become who she is today.
"When I was a student at NC State, it was such a diverse population that it gave me a freedom to start my own process of discovering myself," she said. "Other schools that I considered were not like that at all. The diversity of programs, people and professors really challenged me."
She also credits the university's co-op program for giving her the real world skills that complemented her classroom knowledge.
"My co-op experience was crucial to my research career. In fact, I got a job right out of my co-op and was on the international track at age 26, working with the top research scientists in the field," she said. "The type of researchers that I got to work with in my co-op would typically be very rare, unless you were at a school like MIT."
At 28, she was considered the top employee of a start-up company, with $4 million worth of stock options, a dream come true it would seem. But soon her marriage began to fail and following a divorce, she had to begin a new chapter in her life.
Despite her personal challenges, Hervatic continued to persevere professionally, because of her knack for exceptional communication and analytical skills.
"At NC State, I was able to take a lot of liberal arts courses in addition to my computer science classes," she said. "I developed that marriage of soft skills with analytical skills, which is the secret to success hands down."
Through her work in health care, she provided insight and change in her work with mission critical networks. Soon though, she would receive her own insights from the very folks for whom she was providing solutions. As she
conquered her professional challenges, the feeling remained that she needed to discover her own solutions for a life well-lived.
It was the death of her neighbor Sasha that changed Hervatic in such a way that she knew she would never go back to the corporate world. In what seemed like an instant, she went from inviting Sasha to dinner with friends, to learning he had been murdered.
"He was only 35 and I had just seen him and then like that, he was killed," she said, with disbelief still resonating in her voice.
Hervatic understood the power of grieving, particularly after having done consulting work for Hospice, so she, her sister and friends gathered to hold a memorial service for Sasha. While standing on her porch, Hervatic felt Sasha's presence embody her and she began to share messages from him to his friends that had gathered for the memorial.
"It was literally like the movie Ghost, when the dead characters take over the body of the living person and start communicating," she said. "It was wonderful, yet surreal. I was up for hours, sharing messages for all his friends."
So impacted by this experience, Hervatic looked to others with a greater understanding of interactions with souls that have passed on. Her work with Hospice had introduced her to the concept of energy healing and through those contacts, she was introduced to a Shaman named Valerie Wolf. Within two weeks of that introduction, Hervatic's life path changed forever as she began to study shamanism.
"Shamanism is not a religious construct, but rather a consciousness that every being has a soul and we are all interconnected," Hervatic said. "Shamanic art can be used to evolve human consciousness, deepen our joys and fully process our experiences."
Through her studies with Wolf, she has pursued the expression of shamanic art and created a lifestyle and business that has interwoven her quest for consciousness with her desire to help others heal and use art to evolve the consciousness of themselves. Under the artist name of Jacuv, she has written a children's book and collaborates with a psychiatrist in working with adults and children who have suffered deep trauma. Another area of her creative and healing impact are beautiful shamanic blankets that she makes to provide support for such conditions as trauma, PTSD, cancer, autoimmune diseases, autism and sensitivities.
"My blankets are a vehicle for people to heal from their past and to make them happy, especially children," she said. "So many children are born with special gifts that are misinterpreted. The blankets bring them comfort because they are so ultrasensitive. It is a kinetic experience."
Her life now is drastically different than her former self, but she embraces it with happiness and intentionality. While to an outsider, it may look like this transition took place mid-life, she knows it has been a long time in coming.
"My time at NC State was my launching pad, the first place I could go and really be me," she said. "I had the opportunity to start reinventing myself there, like starting with a clean canvas. It was four years of discovery for me."
For more on the artist Jacuv, visit her website at www.Jacuv.com.
~brackett~
Return To News Homepage