CSC News
October 28, 2014
CAPTIVE Improves 3-D Exploration and Understanding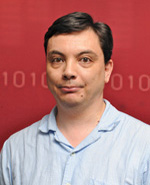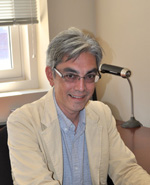 Dr. Robert St. Amant
, associate professor of computer science, and Dr. Christopher Healey, professor of computer science at NC State University, have been awarded $496,858 by the National Science Foundation (NSF) to support their research proposal entitled "Direct Physical Grasping, Manipulation, and Tooling of Simulated Objects."
The award will run from August 1, 2014 to July 31, 2017.
Abstract
– This proposal is for the development and evaluation of CAPTIVE, a Cube with Augmented Physical Tools, to support exploration of three-dimensional information. The design of CAPTIVE is founded on the concept of tool use, in which physical objects (tools) are used to modify the properties or presentation of target objects. CAPTIVE integrates findings across a wide range of areas in human-computer interaction and visualization, from bimanual and tangible user interfaces to augmented reality. CAPTIVE is configured as a desktop augmented reality/fishtank virtual reality system [120], with a stereo-scopic display, a haptic pointing device, and a user-facing camera. In one hand the user holds a wireframe cube that contains virtual objects, in the other the pointing device, augmented to reflect its function as a tool: a probe probes for pointing at, choosing, and moving objects; a magnifying or semantic lens for filtering, recoding, and elaborating information; a cutting plane that shows slices or projection views. CAPTIVE supports visualization with more fluid and natural interaction techniques, improving the ability of users to explore and understand 3D information.
For more information on Dr. St. Amant, click here.
Return To News Homepage