CSC News
October 28, 2014
Dog-Powered Disaster Response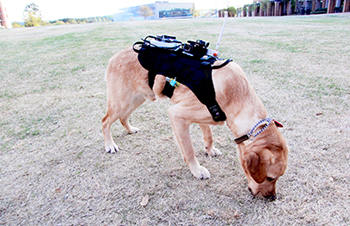 Disaster response today is a collaborative effort that includes humans, drones, robots, and dogs.
As part of the Smart Emergency Response System (SERS) project, Dr. Alper Bozkurt and Dr. David Roberts have designed a highly customized dog harness to be used in disaster response. Bozkurt and Roberts are assistant professors in electrical and computer engineering and computer science at NC State, respectively.
SERS was one of 24 research groups to compete in the SmartAmerica Challenge that kicked off in late 2013. The competition highlighted state-of-the-art practical innovations. The SERS team demonstrated their work at the SmartAmerica Expo on June 11 at the Walter E. Washington Convention Center in Washington, DC.
The expo was organized by the White House Office of Science and Technology Policy and Presidential Innovation Fellows to demonstrate how cyber-physical systems, also referred to as the "Internet of things," can increase American competitiveness and provide socio-economic benefits.
The SERS team was one of four teams to be selected to present at the White House the day before the SmartAmerica Expo.
The project's goal is to use cyber-physical systems to share information and coordinate emergency and disaster response and recovery. These systems are designed to work in real time via a variety of wireless network technologies.
The high-tech harness for dogs Bozkurt and Roberts developed includes three technologies: environmental monitoring, dog monitoring and active communication.
Passive technology, including microphones, cameras and gas sensors, retrieves and transmits data from the field in real time.
Active communication technologies on the harness will allow handlers to relay commands to a dog remotely. Bozkurt and Roberts have incorporated audio communication, via speakers, into the vest.
They are also training dogs to respond to "tactile inputs," nudges from the vest similar to a vibrating cellphone.
"We're using exclusively reward-based training techniques," Roberts said.

Their approach is customized.
"We're developing a platform for sensors that is designed to be plug-and-play, allowing emergency responders to further customize the harness," Bozkurt said. "For example, if there's the possibility of a natural gas leak, you could attach a natural gas sensor. Or if there's the possibility of radiation, you could attach a Geiger counter."
Using wireless communication, the sensors can be monitored remotely at a command center or by dog handlers on a handheld device nearby.
The harness also includes new sensors that monitor a dog's behavior and physiology, such as heart rate. These sensors will allow both dog handlers and the emergency response command center to remotely track a dog's wellbeing and to determine if the animal has picked up a scent or found a specific object or area of interest.
The work being done by Bozkurt and Roberts, along with their collaborator Dr. Barbara Sherman of NC State's College of Veterinary Medicine, is supported by a grant from the National Science Foundation.
The SERS team also includes researchers from MathWorks, the University of Washington, MIT, BluHaptics, National Instruments, the University of North Texas, Boeing and Worcester Polytechnic Institute.
Return To News Homepage