CSC News
October 27, 2014
Drones Over Centennial Campus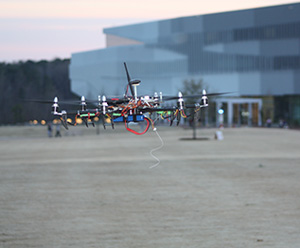 An inaugural programming challenge on unmanned aerial computing platforms took place at NC State over the course of six months.
The challenge culminated in a daylong final challenge on April 12, when the finalist teams took turns running their programs on CentMesh drones to see if their code would fly. CentMesh, formally known as Centennial Mesh, is the wireless network that covers NC State's Centennial Campus.
The programming challenge required teams to fly unmanned aerial vehicles, widely known as UAVs or drones, using the CentMesh wireless network.
The challenge proceeded in phases, with participants who qualified in one phase moving on to the next. The first phase included three initial challenges of increasing difficulty, each with a time limit.
All the code submitted by the finalist teams performed admirably on the final challenge day.
Team YOLO, comprised of Konstantinos Christidis and Yun Wang, and Team Splash Brothers, made up of Hong Xiong, Fengyuan Gong and Miguel Báguena Albaladejo, tied for first place. Each team won a $1,000 prize.
Abhijeet Deshpande and Neha Gholkar, calling themselves Team Garuda, placed third and received a $500 prize.
The day saw only one crash (forced landing), which turned out, upon examination of the logs, to have been the fault of a firmware bug and not the code submitted for the challenge.
The hope is that the challenge will become an annual event that can be expanded to include students from outside NC State and mobile computing aspects other than drones.
-###-
Return To News Homepage