CSC News
October 24, 2014
Handball, an NC State Engineering Tradition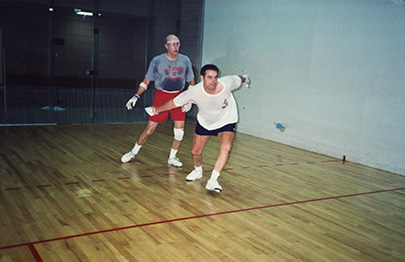 Within an hour of Dr. Donald Bitzer's arrival at NC State in 1989, he was playing handball with Dr. Thom Hodgson.
"We just beat the crap out of each other," Hodgson remembers of their first game.
The two engineering professors had been playing nearly their whole lives.
"I started playing and couldn't stop," says Bitzer, a Distinguished University Research Professor in the Department of Computer Science and Emmy-award winner for his work on the plasma television screen.
Hodgson, a Distinguished University Professor in the Edward P. Fitts Department of Industrial and Systems Engineering, was introduced to the game in 1962 as a transportation officer in the US Army. At an invasion staging area in Orlando, Florida, he didn't have a lot to do after the Cuban Missile Crisis passed, he recalls. During this time, a friend from another company introduced him to the game.
Bitzer and Hodgson, who are both National Academy of Engineering members, played six days a week (every day except for Saturday) at the Carmichael Gym on campus. Together, they won three NC State intramural doubles championships.
Bitzer first came to NC State on a trial basis. Hodgson, who at the time was head of the Department of Industrial and Systems Engineering, says he knew if he could show Bitzer a good handball game, his colleague would make NC State a permanent home. Bitzer later admitted to Hodgson that this was the case.
"We had a lot of fun," Bitzer says, "It was a good group of people."
Hodgson offered any students who could beat him on the court an A in his class. But no one ever received this A. Thus proving the old adage, "Old age and treachery will always overcome youth and skill," as Bitzer recalls.
"We just became very good friends. Our wives are good friends," says Hodgson. "Bitzer is a really smart guy. It was fun to play with Bitzer because he's such a smart handball player."
Hodgson recalls that Bitzer would somehow manage to dink the ball into the corner of the court during doubles matches and win the point. The other teams wouldn't realize he was doing this on purpose until it was too late.
Bitzer played into his seventies, but had to stop a few years ago because of knee problems. Hodgson continues to play today.
Return To News Homepage