CSC News
May 17, 2004
Pilcher challenges graduates to find their unique talent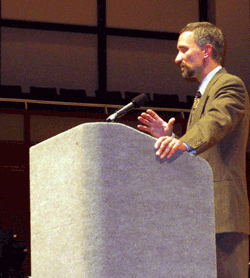 In his address to the 2004 spring graduates, Gerhard Pilcher (B.S., CSC '85), noted that being at the event was a "19-year delayed ceremony for me." He had missed his own diploma ceremony because he was enroute to his first job.
Following his comments to the graduates, Pilcher was surprised with a special recognition of his own: presentation of his diploma by Dr. Alan Tharp, department head.
A member of the department's Strategic Advisory Board, Pilcher had taken a few minutes before his address to the students to acknowledge Tharp's contributions to his education, noting that what he learned in Tharp's database structures course served him well in his career. He also commended Tharp for his 11-years' service as department head, noting the department's growth and the addition of the master's and doctoral degree programs.
He then posed three challenges to the graduates.
Challenge one
"I challenge you to spend five minutes each day – 35 minutes a week – to assess what it is that you want to do in your life. When you look back when you're 70 years old, what at that age do you want to have accomplished?"
With that challenge he asked the graduates to discover their individual talents. "We all have strengths … we are in the process of discovering this." He said he keeps his life goal as a written mission statement, recorded in his palm pilot so that "I can flip it open and read it."
Challenge two
"Have the courage, self-confidence and discipline to start doing those things. Sometimes what I want isn't in line with what I'm doing. We need to use our gifts in our everyday lives," he said. "What if your gifts and talents are in playing the guitar and here you are graduating with a degree in computer science?" he said. "Not that you should take a left turn from where you are now, but once you understand, have the courage, self-confidence and discipline to give it a try."
Success is not always measured by financial success, he said; rather, the measure is: "Have I done the things I want?" He noted the change in his own career, moving from the technical track he was on to his current position as president of a major construction firm.
Pilcher's career includes 12 years at Bell Northern Research, Nortel Network's research and development division where he had responsibilities in both central office switching and digital loop carrier products. He also directed R&D operations in the company's Atlanta facility. From there, he went to Pulsecom, Inc., where he led the company's development of advanced highspeed data access products utilizing Assymetrical Digital Subscriber Line technology. In 1997, he opened a new engineering facility on NC State's Centennial Campus, focused on high-speed data access products.
He now is president of H. B. Rowe & Co., a nearly 60-year-old company that specializes in heavy highway general contracting and large-scale site preparation for commercial and residential development.
Challenge three
"Once you understand and discover your talents, and have the discipline and courage to build your life around those, then look around and realize that everyone has gifts and talents. Look for that in other people. (If we) appreciate, honor and realize the talents of all people, we will achieve more than we could achieve alone."
- Story and photo by Anna Rzewnicki -
Return To News Homepage