CSC News
May 12, 2004
New building construction 'on schedule'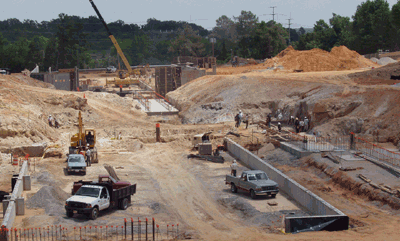 Construction for the new Computer Science-Computer and Electrical Engineering building is under way on North Carolina State University's Centennial Campus.
"Structural steel will be going up shortly," David Lombardi, building construction and management specialist for the College of Engineering, said in early May, and completion is anticipated by summer 2005.
The building will provide 210,000 gross square feet of space for classrooms, research areas and offices, says Ron Hartis, director of operations for the computer science department.
The $35 million facility is funded by the University of North Carolina Higher Education Bond Referendum, and is the second phase in the relocation of the College of Engineering to Centennial Campus. Current construction photos are available in the computer science department's online new building image gallery. Read more about the project on the department's new building page.
Naming opportunities for the new building are outlined in the Corporate Relations section of the computer science department's Website.
- Photos and story by Anna Rzewnicki -
Return To News Homepage