CSC News
June 09, 2014
Vail Receives 2014 Generation Google Scholarship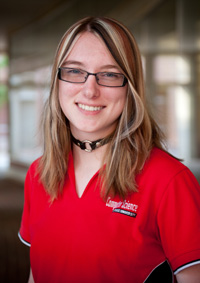 Congratulations to Alexandria Vail, an undergraduate student in the NC State Computer Science Department, on being chosen to receive a 2014 Generation Google Scholarship.
The Generation Google Scholarship was established in 2012 to encourage aspiring computer scientists to excel in technology and become active role models and leaders in the field. Every year, high school seniors from underrepresented groups in technology who have demonstrated a passion for computer science, technical aptitude, academic achievements, and leadership amongst their peers are selected as recipients of this scholarship. This year, Google expanded the brand of their Generation Google Scholarship to include undergraduate and graduate students.
All scholars will receive a $10,000 (USD) or $5,000 (CAD) award. Current university students will attend the Google Scholars' Retreat in Mountain View, CA where they will have an opportunity to attend tech talks, network with other scholars and Googlers, participate in developmental activities and sessions, and attend social activities. Scholars will also participate in a hackathon to create projects related to STEM education and collaborate on ways to actively promote computer science to other underrepresented students in technology.
Current high school seniors will be attending Google's Computer Science Summer Institute this summer, in Mountain View, CA, Cambridge, MA, or in the newest location in Seattle, WA.
Vail is a senior double majoring in Computer Science and Mathematics, while also pursuing a dual minor in Physics and Cognitive Science.
In addition to serving as a Student Ambassador in the Computer Science Department, she is also a member of the STARS Alliance (an outreach group for women and minorities in computer science), Phi Kappa Phi, the University Honors Program, Sigma Pi Sigma, the Department of Mathematics Honors Program, and Mensa International.
She is also an undergraduate researcher in the LearnDialogue Group led by Dr. Kristy Boyer, and has two first-authored publications within that group, one of which she has already presented at an international conference, and another she'll be presenting in Philadelphia, PA later this month (
http://research.csc.ncsu.edu/learndialogue/person.php?id=akvail
).
For more information on the Generation Google Scholarship, and to see a complete list of winners, click here.
Return To News Homepage