CSC News
June 03, 2014
Alumna Sees Computer Science as Creativity and Innovation at its Best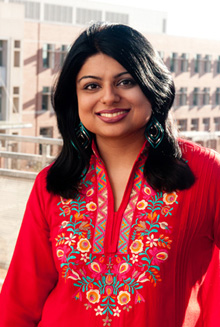 Dr. Bushra Anjum
(CSC PhD 2012) is passionate about computer science. She shares that passion with her students back in her native Pakistan where she teaches and mentors computer science students. When she describes her passion for the field, she intentionally includes all the factors that make her field unique. Like a complicated recipe that lists many ingredients, combined together, it can be a masterpiece, but standing alone, each ingredient is one-dimensional. Computer science, she says, is certainly not one-dimensional.
"Computer science is not just about programming," she said. "If you say computer science is programming, it is like saying all cooking is just chopping. Programming is certainly a part of it, but it's a very small part of it. Computer science is more about building solutions."
"Students need to see the bigger picture of computer science. For example, you recognize a problem and you try to weigh out various options, then you set your goal at one solution or maybe a couple of solutions," she says. "And then you try to find technological feasible thoughts from the problem to the solution. Programming or coding is just a little part of that process. It's creativity and innovation at its best."
Building a picture in the minds of her students of all the possibilities that computer science has to offer is vitally important to her, since she sees some one-dimensional thinking in her native country. She finds that students who have not had the international exposure that she has had, tend not to think outside of what is occurring in Pakistan, a gap she intends to bridge.
"There is a huge disconnect for students in Pakistan," she said. "People who have not had the chance to have the experience I had – living and studying in the States, making new friends and having mentors – they feel ok living in one world while the rest of the world is like another universe on another planet."
To bridge that gap to Pakistani students in their native country, Anjum not only teaches undergraduate and graduate level courses, she gives seminars, webinars and talks about computer science. In addition, she is involved as a mentor in various U.S. initiatives, including Stanford University's SHE ++ and Rice University's Empowering Leadership Alliance.
Her desire to be a teacher and mentor was born from her experience at NC State, as a new international student, in a completely unfamiliar environment several years ago.
"I found the general environment and the people here very warm and welcoming and since NC State – especially the Computer Science Department - gets so many international students, they have developed this culture which is really encouraging and motivational," she said. "I was the only one from Pakistan when I came here but after a few days, I didn't feel that way at all. It's an inclusive culture that I think was very helpful for me."
True to form, she found exactly what she was looking for at NC State, not just simply stated in a mission statement, but lived out on a day-to-day existence on the campus.
"I still remember one line from the mission statement of the Computer Science department, that says 'we want our graduates to be leaders and innovators in industry, education and government for the state, nation and world,'" she said. "I thought that was a very simple, yet powerful statement."
Now as a successful teacher and mentor, Anjum continues to follow the mission statement she read long ago, by helping create tomorrow's workforce on an international scale. Her goal is to see more of her students experience international collaboration.
"I would like to be involved in international collaborations, be it with international universities or international software houses or companies," she said. "That way, it will not only help me and my research, it will help a lot of students in Pakistan to reach out and see how things are done in the world and to connect with people."
~brackett~
Return To News Homepage