CSC News
May 19, 2014
CSC Masters Program Receives Students Before Profits Award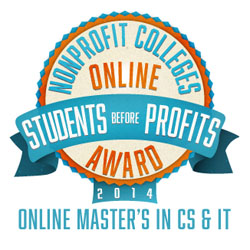 The Students Before Profits Award was created to promote nonprofit colleges and universities offering online degree programs that put students before profits and education before the bottom line.
For our 2014 Online Master's in Computer Science and Information Technology award winners we selected online programs from accredited, nonprofit colleges and universities with objectively lower than average tuition cost and a higher than average student engagement ranking from US News & World Report, which measures student satisfaction and instructor responsiveness. Using that highly strict criteria only three programs qualified.
While this is not a ranking of the best online Masters in Computer Science programs, we do believe the programs receiving this award deserve to be considered among the top online Masters programs in CS & IT available. Prospective online student can rest assured that these programs offer the very best in economic value and commitment to student success.
Enrolling over 34,000 students, North Carolina State University is known for its many research programs and quality online education offerings. Established in 1976, the university's Department of Computer Science is one of the oldest in the United States, and U.S. News and World Report ranked the department's graduate computer science program among the nation's top 50 in 2013.
Online Master's in CS Overview

North Carolina State University's online Masters in Computer Science program teaches both computer theory and systems. Coursework focuses on relevant technologies such as artificial intelligence, database systems, operating systems and networking while teaching students to work in a collaborative business environment. This degree requires the completion of at least 10 courses (31 credit hours) which must be completed within six years from initial enrollment.
Accreditation

North Carolina State University's Masters of Computer Science program is accredited by the Southern Association of Colleges and Schools Commission on Colleges. This accreditation is reaffirmed every 10 years through a two year evaluation process.
US News Student Engagement Score: 84
Program Tuition: $11,687/$23,281
Located in Denver, Regis University is a Jesuit oriented school that has been ranked highly by a number of national publications. Originally founded in 1877 in New Mexico, the school moved to Denver in 1887 and has been there ever since. Regis has been ranked in the top 10% of schools for the number of bachelor's and master's degrees awarded in computer science over the past decade.
Online Master's in CS Overview

The School of Computer Science and Information Services offers many online master's degrees, including for database technologies, software engineering, information technology management and systems engineering. These degree programs feature classes on the various aspects of these subjects, from managing large amounts of data to software design, and how they apply to business and situations in the real world. Most of these programs require 36 credit hours in order to obtain the degree.
Accreditation

Regis University is accredited by the Higher Learning Commission and the North Central Association of Colleges and Schools. The School of Computer Science and Information is accredited by the Computing Accreditation Commission of ABET.
US News Student Engagement Score: 92
Tuition: $24,840
Established in 1872, Virginia Tech University is a public university located in the small town of Blacksburg in Virginia. In addition to the main rural campus, this university also operates multiple satellite campuses throughout the state of Virginia. The school is widely considered one of the best public universities in the United States.
Online Master's in CS Overview

The Online Masters in Information Technology at Virginia Tech University requires that students take essential prerequisite courses in Java programming. All students pursuing this online degree must follow a sequential course outline that includes classes such as Software Engineering and Fundamentals of Computer Programs. The online classes at Virginia Tech University are taught with Asynchronous lectures and narrated powerpoint presentations. There are also discussion sessions available to allow students to communicate with each other in real time.
Accreditation

The Virginia Tech University online Masters in Information Technology program has official accreditation by the Southern Association of Colleges and Schools.
US News Student Engagement Score: 95
Tuition: $25,049/$43,595
~###~
Return To News Homepage