CSC News
May 13, 2014
Department Confers 200 Degrees During Spring Diploma Ceremony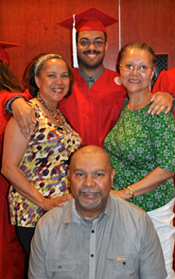 Congratulations to the members of the graduating class of 2014! The NC State Department of Computer Science was pleased to confer 200 degrees during the Spring Diploma Ceremony on May 9, 2014. More than 1,200 relatives and guests celebrated with our graduates, faculty and staff during our ceremony held at Providence Baptist Church in Raleigh.
This graduating class included 5 Ph.D., 105 M.S., and 90 B.S. degrees expanding the department's alumni base to over 7,200.
The undergraduate class included ten Valedictorians (perfect 4.0 GPA): James J. Beavers, Michael Patrick Cote, Ryan Michael Delany, Yu-Lun Hong, Sung Kyung Hwang, Christian Harrison Stith, Cailee Shea Storrs, Alex Wang, Matthew John White, and Eric Michael Whitmire; five Computer Science Honors Program participants: David Paul Dearmore, Daniel Christopher Eckert, Paul Martin Farnsworth, Brian Anderson Via, and Eric Michael Whitmire; six University Honors Program participants: Kaitlin N. McFaul, Asa Benjamin Price, Christopher Shonebarger, Christopher Harrison Stith, Brian Thomas Sykes, and Bethany Lynn Vohlers; two University Scholars Program participants: Dakota Rickman Medd and Eric Michael Whitmire; and numerous members of a variety of scholastic honor societies. The top employers for this semester's students are SAS, IBM, and Fidelity Investments.

NC State Computer Science alumna Heather Miller (BS 1993) served as our keynote speaker.
Miller is currently the Director of Business Architecture, PMO and Vendor Relationship Manager at Coca Cola in Atlanta, GA, and she is also a member of the Computer Department's Strategic Advisory Board. In her remarks, she encouraged the graduates to not only focus on their technical skills, but to also build people skills. She urged them to find ways to humbly support and inspire others, and she assured them this will lead to true success and fulfillment in life.
Providence Baptist Church provided a wonderful setting for the department's diploma ceremony, with comfortable accommodations and professional AV capabilities. DVDs of the ceremony are available for a nominal $25 processing fee (click here for order form). Additionally, a professional photographer took photos of each graduate as he/she received his/her diploma. For more information, please contact the photographer.
Our special thanks go to the Computer Science Department ePartners Program, its participating corporate sponsors, and the NC State Engineering Foundation for their generous sponsorship of this event.
Return To News Homepage