CSC News
April 21, 2014
IEEE Computer Society Honors Samatova
IEEE Computer Society has issued a 2013 Distinguished Contributions to Public Service in a Pre-College Environment Award to Dr.
Nagiza Samatova
for her work with pre-college education.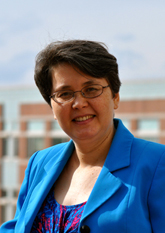 Samatova, a professor with the Department of Computer Science at NC State University, was recognized "for outstanding teaching and mentoring of pre-college students in research projects." She specializes in computational biology and high-performance data mining, knowledge discovery, and statistical data analysis. A senior research scientist in the Computational Biology Institute at Oak Ridge National Laboratory, Samatova is the author of more than 200 publications, two patents, and the book "Practical Graph Mining with R." She received her BS degree in applied mathematics from Tashkent State University, Uzbekistan; a PhD in mathematics from the Russian Academy of Sciences, Moscow; and an MS in computer science from the University of Tennessee, Knoxville. Samatova has supervised dozens of young researchers, and three high school teams she mentored were national finalists in the Siemens Competition in Math, Science and Technology.

For information about the award, visit http://www.computer.org/portal/web/awards/precollege.
About IEEE Computer Society
IEEE Computer Society is the world's leading computing membership organization and the trusted information and career-development source for a global workforce of technology leaders including: professors, researchers, software engineers, IT professionals, employers, and students. The unmatched source for technology information, inspiration, and collaboration, the IEEE Computer Society is the source that computing professionals trust to provide high-quality, state-of-the-art information on an on-demand basis. The Computer Society provides a wide range of forums for top minds to come together, including technical conferences, publications, and a comprehensive digital library, unique training webinars,professional training, and the TechLeader Training Partner Program to help organizations increase their staff's technical knowledge and expertise. To find out more about the community for technology leaders, visit http://www.computer.org.
Return To News Homepage