CSC News
April 17, 2014
Spring 2014 Diploma Ceremony Set for May 9th
The NC State University Computer Science Department will hold its spring diploma ceremony on Friday, May 9th at 2:00 p.m. in the main sanctuary at Providence Baptist Church, located at 6339 Glenwood Avenue, Raleigh (directions).
Approximately 200 graduates are expected to receive their degrees during the ceremony, making this one of the largest diploma ceremonies in department history.
Because of space limitations with available venues, attendance will be ticket controlled. Graduates are urged to pay close attention to the related note below.
We are honored to have Computer Science alumna Heather Miller (BS CSC 1993) serve as our keynote speaker.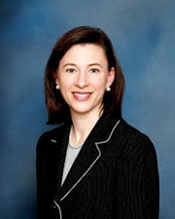 Miller is currently the Director Business Architecture, PMO and Vendor Relationship Manager at Coca Cola in Atlanta, GA. Among a variety of responsibilities, she is working on the development of a new vision for the future workplace and potential technologies that may influence the way we all work in the future.
Prior to Coca Cola, Heather served as an executive with Bank of America where she was responsible for strategic and operational reporting across the Global Technology and Operations organization. Previously she led efforts to aggregate application, hardware, and data center information across the enterprise in order to deliver comprehensive Business Intelligent solutions. These solutions are used to make accurate, informed business decisions for strategic initiatives across the Enterprise Technology & Delivery organization, and are used to support strategic initiatives such as infrastructure re-platforming, data center consolidation, and application simplification.
Prior to Coca Cola & Bank of America, Heather was the Sales and Marketing CIO for GE Energy. During her tenure at GE Energy she served in various leadership roles including Sourcing Leader for IT, IT Acquisition Integration leader for Energy Services, and ERP IT leader and Black Belt. Prior to joining GE Energy, Heather was a manager with Deloitte Consulting and a consultant with American Management Systems.


NOTE TO GRADUATES
:
Due to the large size of this graduating class, access to the main auditorium will be limited to graduates, faculty & staff, and "ticketed" guests. In a process that will be communicated directly to all graduates, each graduate will be guaranteed tickets for two guests to this event. Those who need more can apply for a limited number of extra tickets that will be awarded by lottery drawing the week prior to graduation. There will be limited overflow seating in the fellowship hall, with a live video feed, for those without tickets.
For the benefit of relatives and friends who may not be able to attend the event in person, the event will be available online via live video streaming at
http://go.ncsu.edu/csc-diploma
. Firefox, Internet Explorer and Safari are recommended for viewing the live streaming of the ceremony.
There are several ways to commemorate this special occasion. As each graduate is handed his/her diploma, a professional photographer will take his/her picture. A free color proof will be sent to each graduate's current mailing address, including a password for online viewing. There is no obligation to purchase prints. To receive email notification when photos are online, please visit www.photospecialties.com to pre-register. If a proof is not received within a week of the ceremony, please contact info@photospecialties.com or call 1-800-722-7033.
In addition, Providence Baptist Church provides ample free parking, comfortable accommodations, and professional AV capabilities allowing for live broadcast of the ceremony from multiple cameras angles. DVDs of the ceremony are available for a nominal $25 processing fee. Contact Tammy Coates for more information.
For the convenience of guests who might require overnight accommodations, there are a number of hotels located in the immediate area. For more information, click here.
Our special thanks go to the NC State Engineering Foundation and the ePartners Program for their generous sponsorship of this event.
Return To News Homepage