CSC News
April 09, 2014
Senior Design Center's "Posters & Pies" Planned for April 25th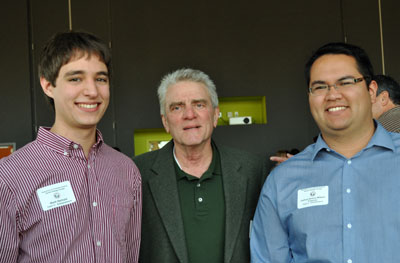 The public is cordially invited to attend the NC State Department of Computer Science Senior Design Center "Posters & Pies" event on Friday, April 25, from 10:40 a.m. - 1:00 p.m.
Project presentations will be held 10:40 - 11:45 a.m. in the James B. Hunt Jr. Library Auditorium on NC State's award-winning Centennial Campus. Posters and demonstrations will be displayed 11:45 a.m. - 1:00 p.m. in the Hunt Library's Multipurpose Room. Lunch (pizzas and dessert pies) will be provided. The event is sponsored by five of the Computer Science Department's ePartners: EMC, NetApp, Blackbaud, Boeing and TrialCard.
This semester, the sponsors and projects are as follows:
Allied Telesis

: Exploring Equinox - Researching the Feasibility of Upgrading OSGi Framework on iMG Devices

Bandwidth I

: Bandwidth Connector 2

Bandwidth II/Republic Wireless

: Raven – Audio Messaging App

Boeing

: Conversion Identifier Tool - HP-UX to Linux

Bronto

: Firehose

Deutsche Bank Global Technology

: MovinUp - Office Management Solution

Duke Energy

: Imperium - Controlling Servers Remotely via iOS

EMC

: Raptor Configuration Tool

Fidelity Investments

: Incident Management System

Fujitsu America

: CustomerCENTER Rewards Manager

Humana

: Operation Consumer Hub Dashboard

I-Cubed

: PlayerPortal - THE Gaming Hub

IntraHealth International

: Page Builder

Ipreo

: Unleashing DAVOS

Juniper

: VTEC (Virtual Topology Environment Configuration)

Lab of Things

: Smart Devices for Your Home

Laboratory for Analytical Sciences

: Natural KINECTion

LexisNexis

: Break the Ice

MetLife

: Web-Based Search & Visualization of Customer Data Tool

NC Gov

: Business Link Express - Become an Entrepreneur

NetApp I

: Dynamic Journaling - Caching Write Right

NetApp II

: Project Progress Reporting Display

SAS

: Quizard – Accessible Online Testing

Sport Spiral

: Spirals, In Touch With Tomorrow

Strategic Motion Video

: Strategic Learning - When Video Talks Back

Strongr

: Be Stronger With Strongr

Teradata

: UBDA - Unified Big Data Architecture

Undergraduate Research

: Gumshoe Games: IC-Crime - SnapShots
Please come join us! The media is welcome to this event.
Senior Design Center contacts:
Media & Corporate Partnership contact:
~coates~
Return To News Homepage