CSC News
April 01, 2014
White House Honors NC State Alum Kevin Clark as Champion of Change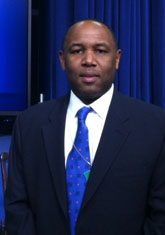 Sometimes, it turns out, a baseball field can be too perfect. Or so Kevin Clark found out when he tried to help a group of African-American and Latino students at an inner-city school in Washington, D.C., learn math and science by playing educational video games.
Clark, director of the Center for Digital Media Innovation and Diversity at George Mason University, had provided the kids with a template for a video game that used baseball to teach math and science. But something was wrong with Clark's virtual baseball field.
"They asked me who plays baseball in a place like this?" Clark recalls. "The template I provided them was perfect. It was nicely groomed. It was a suburban field. But for them, it wasn't their reality. They were empowered to change it, to make it their own."
Clark, who earned an undergraduate degree (1989) and master's degree (1991) in computer science at NC State, had no problem accepting that his baseball field didn't make sense to the students. What mattered to Clark was that the students could use the game's template to change the field to fit their own reality — and hopefully gain some ownership of the technology in the process.
"The primary issue is changing their mind from one of thinking, 'You have to use what you're handed,' to 'You can create what you need and make it so it solves your problems,'" he says.
That approach, part of Clark's larger effort to attract a more diverse group of students to the STEM (Science, Technology, Engineering and Math) disciplines, was recognized by the White House earlier this month when Clark was named a Champion of Change.
"I was surprised," Clark says. "I was humbled and appreciative. I like to go quietly about my business. But it has definitely shined the light on the type of work I do, which is good."
As a professor in George Mason's College of Education and Human Development, Clark oversees the Center for Digital Media Innovation and Diversity. Clark describes the center as a virtual organization that connects a half dozen professors at George Mason with faculty around the country involved in efforts to use technology to get more minority children and girls interested in STEM disciplines, areas that have traditionally been dominated by white males.
The center is involved in research and outreach, looking for opportunities to increase access to STEM education. One of the center's initiatives has been to create a national database of summer camps and after-school programs that focus on science and technology, making it easier for parents to find opportunities to expose their children to such programs.
At the center of much of what the center does is Clark's belief that students need to become creators of technology, not just consumers of technology.
"I want to have students learn how to make stuff," he says. "When you teach students how to build technology, they become in control of that technology. It's a much more powerful approach."
-###-
Return To News Homepage