CSC News
March 26, 2014
April 12 Event Will Put Drone Skills to the Test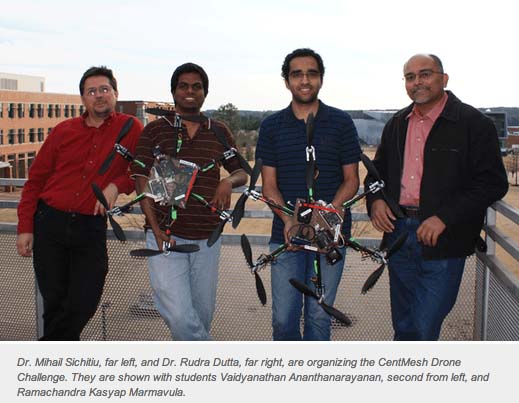 Unmanned aerial vehicles, widely known as UAVs or drones, are no longer exclusively military tools.
Drones now have domestic uses for local governments, colleges and universities and private companies. The Institute of Next Generation IT Systems in the Department of Computer Science at North Carolina State University is hosting a drone programming challenge culminating on April 12 with a goal of raising awareness of these platforms and increasing participation in drone-related activities.
"Computing and programming in the future will need to be carried out increasingly on such platforms, rather than traditional computers," said Dr. Rudra Dutta, professor in the Department of Computer Science. Dutta and Dr. Mihail Sichitiu, associate professor in the Department of Electrical and Computer Engineering at NC State, are spearheading the program.
"Our graduates tomorrow will need to be familiar with a broader spectrum of computers and programming — hopefully this challenge does its little bit to help with that."

The programming challenge on airborne computing and networking nodes will require teams to fly drones using the Centennial Mesh (CentMesh) wireless network that covers NC State's Centennial Campus.
The CentMesh network was created to support research and education on the design of wireless mesh networks, as well as IT systems and applications.
Wireless mesh networks expand the reach of traditional Wi-Fi networks, which rely on access points with wired access to the Internet that allow them to communicate wirelessly with laptops, smart phones and other devices.
While mesh networks also use multiple access points, they can communicate with each other as well as with these devices. One or more of the mesh access points are "root nodes" that have a wired connection to the Internet. Other mesh access points have access to the Internet through these root nodes. Eliminating the need to have all access points wired gives a mesh system greater flexibility.
This allows network designers to place access points in spots that can't be wired, such as some outdoor settings or military situations.
A CentMesh Drone is based on a drone platform called a hexacopter. These hexacopters can be controlled using standardized commands, which are typically issued by a handheld radio controller. But the CentMesh Drones operate differently.
Instead of using ground control software to guide them or simply flying them manually like a radio-controlled toy plane, a CentMesh drone is outfitted with a small Linux computer. The challenge consists of programming the computers to fly the drones, so they can perform truly autonomously.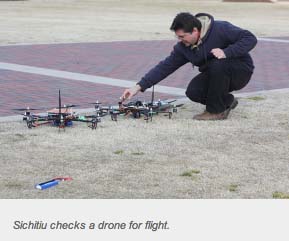 The challenge will proceed in phases, with participants who qualify in one phase moving on to the next. The first phase will include three initial challenges of increasing difficulty, each with a time limit.
A simple challenge might be to, "Write a program so that upon execution, the drone will take off vertically, hold altitude at 50 feet, and wait for a message sent via Wi-Fi containing a set of coordinates; upon receiving the message, will move to those coordinates, hover for 30 seconds, then land."
On March 31, each team must clear the initial challenges and the final challenge problem will be revealed. Twelve teams have registered.
The first team to fulfill the final challenge or the last team standing (depending on the nature of the challenge) will win the final challenge and the cash prize. At this time, the awards are hoped to be a $1,000 first prize, a $750 second prize and a $500 third prize.
The prizes are being made possible by grand sponsor Aruba Networks. Overall funding for the CentMesh facility and all the CentMesh equipment, including the drones, came from the US Army Research Office.
The winning team, and possibly one or two other teams close to winning, will be issued another challenge on the spot and will have an hour to develop a program to solve it. If they succeed at this challenge, the team will receive an additional cash prize.
In addition to cash prizes, the top teams may be invited to participate in ongoing CentMesh research applications on this platform. The day-long final challenge competition will be held on April 12 on the Centennial Campus Oval (with April 13 as a rain date).
Learn more at centmesh.csc.ncsu.edu/drones_challenge.html.
Return To News Homepage