CSC News
March 12, 2014
Video Game Design Program at NC State in Top 25 Again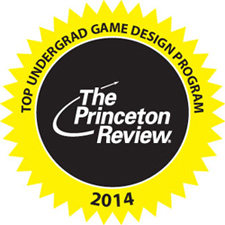 The Video Game Design Program at NC State has been recognized as one of the "Top 25 Undergraduate Schools to Study Game Design for 2014." NC State ranks 23rd on The Princeton Review's fifth annual list which salutes the best schools in the U.S. and Canada. This is the fourth consecutive year that NC State's program has been recognized.
The Princeton Review
selected the schools based on a survey it conducted in 2013-2014 of 150 institutions in the U.S., Canada and abroad offering video game design coursework and/or degrees. The 50-question survey asked schools to report on a range of topics from their academic offerings and faculty credentials to graduates' employment and professional achievements. Among the 60 data points the company considered in its assessments: the program curriculum, facilities, career services, and technology.
The list is published on The Princeton Review's website.
Robert Franek, The Princeton Review's Senior VP – Publisher, praised the very specialized learning opportunities available at these schools – from undergraduate college majors in game design to professionally focused graduate degrees. "For students considering careers in video game design, these are the 'cream of the crop' institutions to attend. Some are among the nationally best-known universities in higher education. Others have well-deserved regional reputations in this field. All have state-of-the-art programs in game design. Collectively, they have graduated many of the field's top developers, artists, designers, and industry professionals."
Dr. R. Michael Young
, professor of computer science and director of the NC State Digital Game Research Center said, "This is the fourth year in a row that NC State has been ranked among the top game development programs in North America by The Princeton Review. Being ranked #23 in such a strong field of schools is a reflection of the outstanding academic programs we have in games here at NCSU and of the impact that our graduates are having at leading games companies like Epic Games, Red Storm Entertainment and many others.
"NC State's unique program blends games courses taught in world-class engineering and design colleges with courses that leverage game studies, psychology and educational theories. We look to games industry leaders like
Microsoft Game Studios, Virtual Heroes
and others to provide input to our instructors, and we design our classes to teach real-world best practices. As a result, our graduates are trained as excellent software developers or designers with all the tools they need to hit the ground running at a game company. Our graduates have been placed at large, international companies like
Ubisoft
, dynamic North Carolina game studios like
Spark Plug Games
or start-ups that they found themselves, like
Mighty Rabbit Studios."
For more information on the computer science department's undergraduate concentration in game development, click here.
Return To News Homepage