CSC News
February 26, 2014
Johnson Estate Plans to Benefit Department
Blending a Love for Athletics & Academics – this Avid Wolfpacker Supports Both!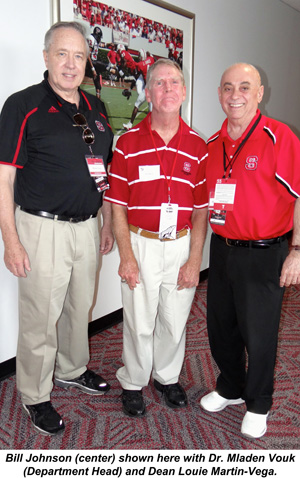 In a signing ceremony during halftime of a football game last fall, avid Pack fan and Computer Science alumnus, William "Bill" Johnson III (B.S. Engineering Operations '70, B.S. CSC '71), set into motion estate plans that will benefit both athletics and academics at his alma mater. Specifically, Bill has created a Men's Golf Scholarship Endowment and two transformational endowments to benefit the Department of Computer Science.
Through his estate plans, Bill will establish the William W. Johnson III Distinguished Professorship in Computer Science. This will enable the College of Engineering to recruit and retain highly esteemed faculty who contribute to the department's overall teaching, research and outreach mission. In addition, his estate plans call for the establishment of the William W. Johnson III Computer Science Scholarship Endowment, a needs-based award that will support computer science students for future generations. The State of NC will provide additional funds to the Distinguished Professorship that match Bill's gift – which could exceed one million dollars in total support for the Department of Computer Science.
Bill graduated from NC State University in 1970 with a B.S. degree in Engineering Operations and remained in school for another year, receiving a B.S. degree in the newly created Computer Science discipline in 1971. Upon graduation, he accepted a position with Celanese Corporation where he spent 13 years, ultimately transferring to their Dallas headquarters. A desire to be closer to home brought him to Blue Cross and Blue Shield in Columbia, SC, where he worked as a software engineer and project leader until his retirement.
Professionally, Bill says that he received the most satisfaction as the leader of a project to automate the bill of lading, while working for the Chemical Company part of Celanese in Dallas, TX. Prior to this time, the shipping locations of the company were preparing the bill of lading on a typewriter, allowing the possibility of using outdated information and making mistakes. The bill of lading project interfaced with a sophisticated rate & route guide (implemented in 1983, the previous year) making it possible for the central Traffic Department in Dallas to control the quality of the bill of lading document, as well as the actual shipment of product. The result was an electronically produced bill of lading, saving the Celanese millions of dollars in chemical shipping costs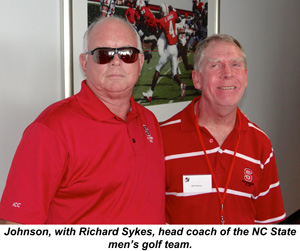 Bill attributes his successful career to "perfect timing". Recalling his early days in engineering, he says he opted to pursue a degree in Engineering Operations (EO) because it didn't require quite as much math as many of the other engineering disciplines. For this reason, he jokingly said that many referred to the EO major as the "Easy Out" degree. As fate would have it, the EO curriculum required he take CSC111, an introduction to programming using Fortran. He says the course and its mathematical focus intimidated him early on, and he relied heavily on help from several of his classmates to complete assignments. But with a critical deadline approaching, it seemed that everyone he had been relying on went away for the weekend, forcing him to lock himself away and really buckle down to work on the problem. The "light bulb" went off, he says and he was able to see the problem using logic. He turned it in and made a perfect score. The following week's assignment built off of that and he again solved the problem correctly, all on his own. A short time later, many of the classmates who had originally been helping him, were now coming to him for help. He had fallen in love with computer science, a discipline in its infancy, and went on to get his CSC degree in what was only the second graduating class at NC State in that discipline. As he says, "the rest is history."
A native of Charlotte, Bill also holds an MBA from UNC-Charlotte. He is a loyal Wolfpack fan, and still attends home games with friends he's known since his days as a student. An avid golfer, he golfs twice a week with a group of alums in Columbia, or at the Lonnie Poole Golf Course, whenever he has a chance.
The department extends our gratitude to Bill Johnson for his most generous and transformational gift that will benefit the department, our faculty, and our students for generations to come!
Return To News Homepage