CSC News
January 07, 2014
Bitzers Establish Endowment to Support Undergraduate Research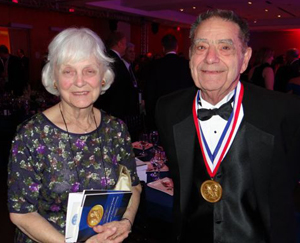 Dr. Donald Bitzer, Distinguished University Research Professor, and his wife - Maryann, have made a commitment to establish the Bitzer Undergraduate Research Endowment for the department of computer science at NC State University.
The new endowment, seeded with a recent donation of almost $18,000, is the first of its kind for the department and will provide funds in perpetuity that can be used to support undergraduate research related stipends, awards, travel, equipment, and/or any need as deemed appropriate by the department head to support undergraduate research efforts within the department.
The Bitzers have long been strong proponents of nurturing undergraduates to reach their full potential, and Dr. Bitzer has personally mentored and involved countless undergrads in his research efforts throughout his illustrious career.
Bitzer is perhaps best known for co-inventing the flat plasma display panel in 1964, for which he was awarded an Emmy in 2002 by the National Academy of Television Arts & Sciences. He is also known as the "Father of PLATO," or Programmed Logic for Automatic Teaching Operations, the first computer system to combine graphics and touch-screen displays. His work on the technology began around 1960; descendant systems still operate today. He has been a member of the National Academy of Engineering since 1974, inducted into the Consumer Electronics Hall of Fame in 2006, and the National Inventors Hall of Fame in 2013.

Bitzer received his bachelor's, master's and doctoral degrees in electrical engineering in 1955, 1956, and 1960, respectively, from the University of Illinois at Urbana-Champaign. He joined the faculty at NC State in 1989.
The department thanks the Bitzers for their contributions and their ongoing support of students.
~tate~
Return To News Homepage