CSC News
December 30, 2013
Department Confers 173 Degrees During Fall Diploma Ceremony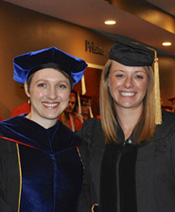 The NC State Department of Computer Science conferred 173 degrees during the Fall Diploma Ceremony on December 18, 2013. Over 1,000 relatives and guests celebrated with our graduates, faculty and staff during our ceremony held at Providence Baptist Church in Raleigh.
This graduating class included 16 Ph.D., 86 M.S., and 71 B.S. degrees expanding the department's alumni base to over 7,200.
The undergraduate class included four Valedictorians (perfect 4.0 GPA), Ivery Daniel Frazier, Marc David Labrecque, Fabian Juergen Thielisch, and Brandon P. Walker; three Computer Science Honors Program participants, Stephen Antoine Baulch, Iosif Leonid Makhatadze, and Brandon P. Walker; and numerous members of a variety of scholastic honor societies. The top employers for this semester's undergraduate students are SAS, Microsoft, Fidelity Investments and IBM.
Dr. Mladen Vouk
, department head, professor, and Associate Vice Provost for Information Technology, congratulated the graduates on their accomplishments.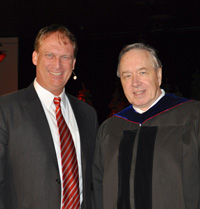 We were honored to have Greg Germain, vice president of NetApp, serve as out keynote speaker.
He leads the NetApp SAN and NAS engineering teams that deliver innovative storage and data management solutions designed to accelerate customers' business models through IT efficiency and flexibility. In addition to guiding worldwide teams in San Jose, Vancouver and Bangalore, he is responsible for the RTP engineering site which was recently recognized as the #1 "Best Place to Work" in the Triangle for 2013.
Germain has over 30 years of experience in information technology companies including NetApp, Dell, IBM and Paradyne Networks. He started an east coast engineering site for Jetstream Communications and co-founded Centennial Systems on NC State's Centennial Campus. During his career his teams have delivered over 75 enterprise and telecom solutions in the areas of servers and storage, cloud computing, mobile and desktop devices, networking and telecommunications. He holds a Masters degree in Computer Engineering from Syracuse University and a Bachelors degree in Mechanical Engineering from Rochester Institute of Technology.
Local musician Nancy Tissiere provided special entertainment for the diploma ceremony.
Providence Baptist Church provided a wonderful setting for the department's diploma ceremony, with comfortable accommodations and professional AV capabilities. DVDs of the ceremony are available for a nominal $25 processing fee. Please contact Tammy Coates for more information. Additionally, a professional photographer took photos of each graduate as he/she received his/her diploma. For more information, please contact the photographer.
Our special thanks go to the Computer Science Department ePartners Program, its participating corporate sponsors, and the NC State Engineering Foundation for their generous sponsorship of this event.
~coates~
Return To News Homepage