CSC News
December 03, 2013
NC State Announces University Faculty Scholars
Mick Kulikowski | News Services | 919.515.8387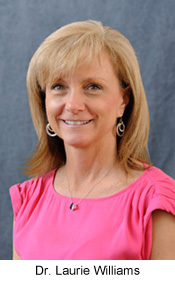 North Carolina State University Chancellor Randy Woodson recently announced the 2013-14 University Faculty Scholars, top NC State early- and mid-career faculty who will receive $10,000 in donated funds for each of the next five years to support their academic endeavors. The recognition and reward program is part of the university's strategic initiative to invest in and retain top faculty.
"These 20 extraordinary faculty members are the future academic leaders of NC State," Woodson said. "They do so much to benefit North Carolina through their teaching, research and service, and this program will help them fulfill their scholarly opportunities."
Those eligible for awards include assistant professors who have been reappointed for a second term; associate professors; and full professors within the first three years of appointment at that rank. Nominees were evaluated based on evidence of their significant achievements in scholarship, teaching and/or service appropriate to their rank and discipline.
Faculty members are nominated by their colleges and selected by a committee of senior faculty. Forty-two faculty were nominated for the award this year.
This year's class of University Faculty Scholars includes:
* Sankar Arumugam, associate professor of environmental engineering
* John C. Begeny, associate professor of psychology
* Karen Daniels, associate professor of physics
* Francis L. de los Reyes III, professor of environmental engineering
* Joshua Heitman, associate professor of soil science
* William A. Hoffmann, associate professor of plant and microbial biology
* Albena Ivanisevic, associate professor of materials science and engineering
* Akram F. Khater, professor of history
* Sung Woo Kim, professor of animal science
* Hollylynne Lee, professor of science, technology, engineering and mathematics education
* Christian Melander, professor of chemistry
* Adam J. Moeser, associate professor of population health and pathobiology
* Chris E. Moorman, professor of forestry and environmental resources
* Edgar A. Oviedo-Rondón, associate professor of poultry science
* Matthew D. Parker, associate professor of marine, earth and atmospheric sciences
* Melissa Pasquinelli, associate professor of textile engineering, chemistry and science
* Alyssa Rockenbach, associate professor of leadership, policy and adult and higher education
* Gregory S. Sawicki, assistant professor of biomedical engineering
* Timothy L. Stinson, assistant professor of English
* Laurie A. Williams, professor of computer science
The University Faculty Scholars program strengthens NC State's ongoing commitment to faculty excellence. The university launched the Chancellor's Faculty Excellence Program to attract the best and brightest minds to join NC State's interdisciplinary efforts to solve some of the world's most significant problems.
- 30 -
Return To News Homepage