CSC News
November 13, 2013
Sullivan Named 2014 NCDS Faculty Fellow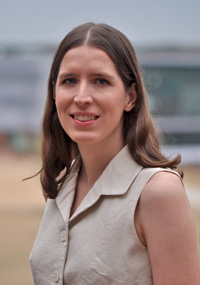 Dr. Blair D. Sullivan, assistant professor of computer science at NC State University, has been named a 2014 National Consortium for Data Science (NCDS) Data Science Faculty Fellow. She will receive $30,000 in support of her project "Tracking community evolution in dynamic graph data using tree-like structure."
In the award letter from NCDS, Stan Ahalt, Director of RENCI and professor at UNC-CH, on behalf of the review committee wrote, "We believe your proposal shows great potential to advance the field of data science, contribute to the ability to glean knowledge and opportunity from big data, and build relationships between big data users and creators in the public and private sectors, including the membership of the NCDS."
As a Data Science Faculty Fellow, Dr. Sullivan will have the opportunity to work with members of the consortium, leverage their expertise, and contribute to their vision of establishing a comprehensive data science that will enable our nation to take full advantage of the era of big data.
The award will run from January 1, 2014 through December 31, 2014.
Return To News Homepage