CSC News
October 31, 2013
Research That Has Gone to the Dogs!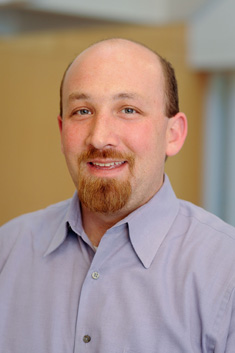 Dr. David Roberts
, assistant professor of computer science at NC State University, along with collaborators Alper Bozkurt, ECE and Barbara Sherman, CVM, has been awarded $999,103 by the
National Science Foundation (NSF)
to support a collaborative research proposal entitled "
Integrated Sensing and Control Algorithms for Computer-Assisted Training
."
The award will run from October 1, 2013 to September 30, 2016.
Abstract – We propose to develop tools and techniques that will enable more effective two-way communication between dogs and handlers. We will work to create non-invasive physiological and inertial measuring devices that will transmit real-time information wirelessly to a computer. We will also develop technologies that will enable the computer to train desired behaviors using positive reinforcement without the direct input from humans. We will work to validate our approach using laboratory animals in the CVM as well as with a local assistance dog training organization working as a consultant.
Return To News Homepage