CSC News
October 30, 2013
Murphy-Hill Receives NSF Award for Research on Software Vulnerabilities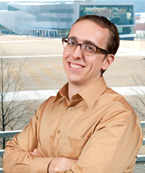 Dr. Emerson Murphy-Hill, assistant professor of computer science at NC State University has been awarded $249,854 by the National Science Foundation (NSF) for his research proposal, "Discovering Software Vulnerabilities Through Interactive Static Analysis."
The award will run from October 1, 2013 to September 30, 2016.
Abstract: Software vulnerabilities originating from insecure code are one of the leading causes of security problems people face today. Current tool support for secure programming focuses on catching security errors after the program is written. We propose a new approach, interactive static analysis, to improve upon static analysis techniques by introducing a new mixed-initiative paradigm for interacting with developers to aid in the detection and prevention of security vulnerabilities.
For more information on Professor Murphy-Hill,
click here.
Return To News Homepage