CSC News
September 24, 2013
CSC Department Welcomes New Student Ambassadors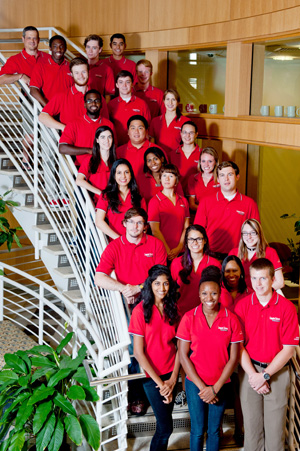 The NC State Computer Science Department is pleased to announce the second class of undergraduate students to join the NC State University Department of Computer Science Student Ambassador Program. The program was launched last spring with 24 undergraduates, and we are replacing our graduating ambassadors with 10 additions.
The Ambassadors are a select group of sophomores, juniors and seniors who serve as an extension of the department in support of its external relations and outreach efforts. They will be presented with a variety of representational and developmental opportunities throughout the year including University and College of Engineering Open Houses, the Computer Science ePartners Career Fair, Fidelity Investments Leadership in Technology Speakers Series, the Welcome Back Bash, year-end picnic, high school student/parent tours and more. By the very nature of the role, Student Ambassadors will be required to promote NC State University, the College of Engineering, the Department of Computer Science and the computer science discipline.
The 2013-14 CSC Student Ambassadors are (new ambassadors in bold face):
Seniors
– Daniel Choi, Malcolm Cosh, Keith Council, Denae Ford, Dan Goslen, Crystal Martin, Karen Stabile, Kristina Topchieva, Bethany Vohlers, and Jay Whitfield;
Juniors
– Andie Aldana, Woodrow Barlow, Jasmine Daniels, Jose Gutierrez, William Higgins, Ricky Hopper, Lauren Koepnick, Nolan Piland, Bryce Pilcher, Vinaya Polamreddi, Jonathan Poston,
Xavier Primus,
Anya Raspopovic,
Robert Shipley
, Lara Stocks, and Alexandria Vail.

"The first year of our Student Ambassador Program was a tremendous success! We were excited and honored to have these students represent the computer science department in various capacities throughout the year," says Ken Tate, Director of Development and External Relations. "They are a talented group of students who have helped us greatly expand our K-12 outreach efforts. Their impact will be felt for generations to come."
All Student Ambassadors are matriculated CSC undergraduate majors at the sophomore level or higher. They may be nominated in the spring by faculty/staff or apply directly for consideration. Ambassadors work in one-year terms, renewable until they graduate, at the discretion of the department leadership based on overall participation, performance and academic progress.
~coates~
Return To News Homepage