CSC News
September 17, 2013
Lights, Virtual Camera, Action!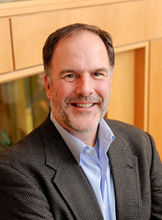 Dr. R. Michael Young
, professor of computer science at NC State University, has been awarded $352,696 by the National Science Foundation (NSF) to support his research proposal entitled "Integrating Cognitive and Computational Models of Narrative for Cinematic Generation."
The award will run from August 1, 2013 to July 31, 2016.
Abstract
– Virtual cinematography, the use of a virtual camera within a three dimensional virtual world, is being used increasingly to communicate both in entertainment contexts as well as serious ones (e.g., training, education, news reporting). While many aspects of the use of virtual cameras are currently automated, the control of the camera is currently determined using either a pre-programmed script or a human operator controlling the camera at the time of filming. This project seeks to develop a model of virtual cinematography that is both computational -- providing a software system capable of generating camera control directives automatically -- and cognitive -- capable of modeling a viewer's understanding of an unfolding cinematic.
~coates~
Return To News Homepage