CSC News
April 06, 2004
Computer Science students pitch in for Service Raleigh, open house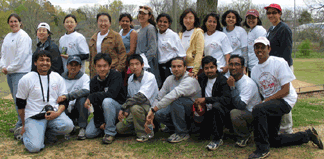 More than 20 computer science students joined in the April 3 Service Raleigh activities, planting trees along Western Boulevard with the Trees across Raleigh (TAR) organization.
The Women in Computer Science (WiCS) got together with the Computer Science Graduate Student Association (CSC-GSA) to participate in Service Raleigh. They joined the Trees Across Raleigh group, planting trees on Western Boulevard.
Service Raleigh was started in 1998 by the Park Scholars and NC State's Student Government as an annual, one-day event to help foster in its participants a commitment to service and the community.
About 2,100 student volunteers from throughout the university arrived in the brickyard between 8 a.m. and 9 a.m. on Saturday to launch their day of service with a breakfast and kick-off entertainment. In addition to the tree planting, other students participated by cleaning up the Neuse River basin, constructing wheelchair ramps for elderly and disabled members of the community and helping to run the Wake County Senior Games.
Another 25 computer science students, faculty and staff were volunteering closer to home, helping with the College of Engineering's Open House that was also held on Saturday. Between 2,000 and 3,000 prospective undergraduates came through the various displays, with hundreds of high schoolers and their parents viewing computer science demonstrations provided by Dr. Michael Young and his students, as well as current and former members of Senior Design Center project teams. In addition, two groups of computer science students and alumni led panel discussions and question-answer sessions about the life of computer science students. The sessions were moderated by Dana Lasher, director of computer science student services.
- rzewnicki -
Return To News Homepage