CSC News
August 14, 2013
Helping Kids Bring Their Stories to Life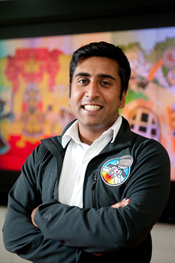 Thushan Amarasiriwardena loved Legos as a kid. He also loved taking pictures, making videos and creating stories. In his most formative years, the Internet served as a catalyst for bringing all those creative outlets to life for him. Now, as an adult, an NC State computer science graduate, an entrepreneur and a visionary, he is taking his childhood experiences and integrating them for a generation of technology savvy children by creating a crossroads between traditional play and today's technology.
"Today, kids are running to devices like the iPad and the iTouch," Amarasiriwardena said. "Play is always going to happen and touch is a natural device to make play happen, so we have created an app that merges the two together in a meaningful and creative way."
The "we" is the creation of Launchpad Toys, a company by Amarasiriwardena and his good friend, Andy Russell, where the mission is to create digital toys and tools that empower kids to create, learn and share their ideas through play. The two men had always collaborated on ideas for such a company as they worked in their then-current jobs, Amarasiriwardena at the Boston Globe and Russell at Hasbro Toys.
"We always wanted to find the intersection between play and technology and when the iPad came out, we knew this was the time for us to start our business," he said. "Our first app was Toontastic, a creative learning tool for the iPad that teaches storytelling skills by enabling them to create their own cartoons and post them online."
On day two of Toontastic's launch in 2011, it was rated number two by Apple as one of the best new apps on the market. In quick follow up to that strong accolade, the New York Times named Toonstastic to the iTunes Hall of Fame.
So what makes Toontastic so popular among kids as young as five, one might ask?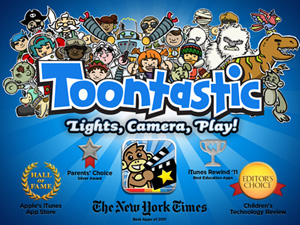 "Toontastic is a way to digitize action figures and create amazing stories, capturing all of it in real time," said Amarasiriwardena. "Think about how often kids come up with these great stories when they are playing, only to be lost the minute they move onto something else. Toontastic allows them to create even better stories, complete with characters, settings and music, so they have this amazing creation that they can post online, share with Grandma or their friends, or go back and change if they decide they want a different ending to the story."
Referring to his love of Legos, Toontastic follows a Lego set approach, where the app contains about 30 different characters and settings. Players pick the characters they want to make a story about and digitize them, so they can move them around, move their arms and legs, change their costumes or colors, based on their own personal preference.
"There is also a music element to the story, so the players can choose from various musical selections in order to convey the type of emotion they are trying to get across," he said. "If the scene is high energy, then they may pick a more high energy score, like 'Flight of the Bumblebees'."
Once their story is complete, it can be uploaded and viewed by children from around the world. The site hosts cartoons from every state in the union and hundreds of countries around the world. Currently, there are 600,000 users on Toontastic and over two million cartoons posted.
Launchpad Toys isn't just focusing on the younger users either, Amarasiriwardena said. For teens, Monkeygram is available on the iPhone, and Toontastic Jr., for ages two to five, is available on the iPhone and iPad.
With a company of six people and some pretty impressive investors behind them -- Reece Duca, former CEO of The Learning Company and the co-founders of Twitter are investors – what does Amarasiriwardena envision for the future of Toontastic?
"We want to be the Adobe Creative Suite for kids, so they can create stories, make up wacky news reports, make music, produce video and animation," he said. "We have had great mentorship throughout the development of Launchpad Toys. Back in the day, it took forever to create things and now we can change things on an hourly basis. There is instant gratification for developing things on the web and for it to be used on such a mass scale. We want to push the boundaries because there is a lot to do in this field and the coolest part is when we get it in front of the user."
From computer science graduate to self professed "toy maker," Amarasiriwardena credits his experience at NC State for giving him his own launchpad for creativity.
"I was learning from professors that were actively inventing things in their fields, like Donald Bitzer who invented the plasma screen," he said. "There are so many talented professors at NC State and they showed that we could excel at so many things. With access to real world professors as well as exposure to all the real world possibilities, if you can mix that knowledge and experience with something you are passionate about, then it gives you the gamut to succeed at what you want to do."
Return To News Homepage