CSC News
June 10, 2013
Galloway Chosen for Google Teaching Fellows Practicum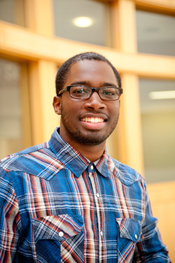 Congratulations to recent NC State Computer Science graduate KaMar Galloway (BS CSC 2013) on being chosen to participate in the Google Computer Science Teaching Fellows Practicum. His area of focus is K-12 computer science education.
Google seeks out talented (STEM) Science, Technology, Engineering or Math teachers to join this two-year program designed to grow leaders in computer science education. The program targets new and recent graduates passionate about the future of computer science education. Participants will be working with a talented cohort of other computer scientists and teachers, as well as thought leaders in education, to learn the newest techniques and programs for computer science pedagogy. They will implement programs with area schools and students, and create innovative approaches to student learning.
Practical application and experience is also a large part of the practicum. Hands-on implementation allows the Fellows to put their new skills to work by running existing computer science programs (e.g., Bootstrap, CodeHS, CodeAcademy After School) at schools in the region. Fellows have the opportunity to work with students, analyze and apply their teachings, and improve upon the current state of the art.
"I will be part of a brand new initiative by Google to help create the future of Computer Science and Technology Curricula for young minds in the Southeast," said Galloway. "It is an amazing feeling to see my hard work pay off as I gain employment with one of the world's most admired companies."
Galloway will be relocating to South Carolina to work in Google's Berkely County Data Center.
~coates~
Return To News Homepage