CSC News
May 29, 2013
Department Launches NC State CSC Aspirations Award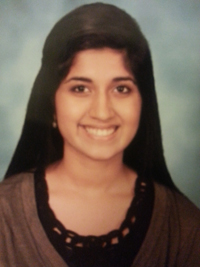 The department is pleased to announce that Ruchee Shorey, a senior at David W. Butler High School in Charlotte, is the recipient of the inaugural NC State Computer Science Aspirations Scholarship Award.
The new Aspirations Award has been launched in conjunction with the National Center for Women in Technology (NCWIT) and has been designated to go annually to a high school student who wins a national or regional NCWIT Aspirations Award and who attends NC State University to pursue a degree in computer science. The $1,000 award is renewable for a total of four years as long as the student maintains acceptable academic progress toward a B.S. degree in computer science.
Ken Tate
, director of development & external relations for the department, says the award is just one part of a comprehensive strategic initiative to help attract more females into the computer science discipline. "From our summer camp program where middle school females design smartphone apps to our new Future Students web portal highlighting how computer science graduates are using their degrees to make a real difference in the world, we are striving everyday to bring computer science to life," Tate says. "We are proud to work side-by-side with other universities as part of the NCWIT Academic Alliance on strategies to draw more females into the discipline, and are especially proud to launch this new scholarship award to help attract incredibly gifted young women to study computer science here at NC State."
Shorey is the winner of the 2012 North Carolina Affiliate Aspirations Award and is extremely excited to be named the inaugural winner of the NC State award. She says, "I have lived in NC for approximately seven and a half years, and during my time here, I developed an interest in the computing field." Her interest started when she attended a college C++ lecture when she was a freshman in high school, and since then, she has taught herself more about different programming languages, like Python and C++. She says that a strong curiosity of what makes computers run as they do contributed greatly to her decision to pursue a degree in computer science.
For more information on NCWIT and the Aspirations award, click here.
~###~
Return To News Homepage